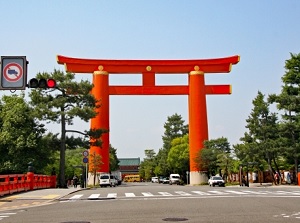 Big Torii gate of Heian Shrine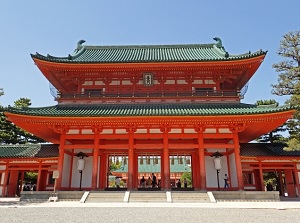 Outenmon of Heian Shrine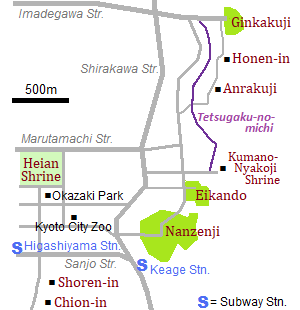 Heian Shrine ("Heian Jingû" in Japanese) is a Shinto shrine.
It is located about 1.5 km north of Yasaka Shrine, and Nanzenji temple is located about 1 km east-southeast of this shrine.
Marutamachi Street runs on the north side of the shrine.
This shrine is relatively new in the ancient city of Kyoto.
It was built as the main construction to commemorate the 1,100th anniversary of the ancient capital city in 1895.
The buildings in this shrine were re-created as five-eighth sized main palace of ancient Kyoto.
Emperor Kanmu (737-806) moved the capital from Nara to Kyoto in 794.
This shrine enshrines him.
Emperor Komei (1831-1867) was the last emperor who lived in Kyoto as the capital.
This shrine also enshrined him in 1940.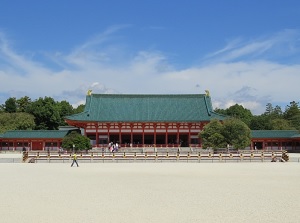 Daigokuden of Heian Shrine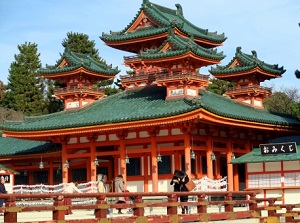 Soryuro tower to the right of Daigokuden
In 1976, most of the buildings in this shrine were burned down in an arson attack by a left-wing activist.
This shrine was not a national cultural property, so it was unable to receive government's subsidy.
But much money was raised from across Japan, then the shrine was rebuilt in 1979.
The main gate is Outenmon (應天門), and the main shrine Daigokuden (大極殿) is to the north.
And corridors surround the precinct and connect these buildings.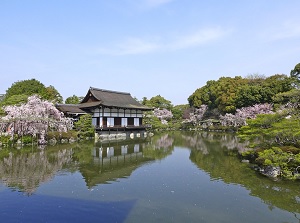 Garden of Heian Shrine in spring
Photo by Kyoto Free Photo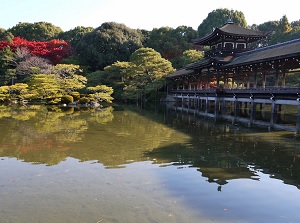 Garden of Heian Shrine in autumn
Photo by Kyoto Free Photo
The precinct of the shrine is surrounded with wide garden.
There are main three ponds and they connect by streams.
There are many trees and some buildings are dotted.
The day when the capital was moved to Kyoto was October 22.
Jidai Festival is held as the annual celebration of this shrine on the day every year.
It is one of three major festivals in Kyoto, along with Gion Festival and Aoi Festival.
How to get here
The nearest station of subway is Higashiyama (●T10 Tozai Line).
About 850 meters walk from the station.
Or, by route bus, from Kyoto station, about 20 minutes to Okazaki-koen stop.
Hotels in Sakyo Ward in Kyoto
Other Tourist Attractions in Kyoto Prefecture