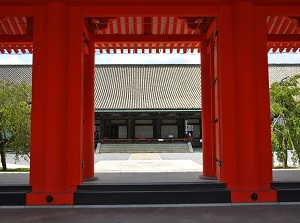 Corridor & main temple of Sanjusangen-do
Photo by Kyoto Free Photo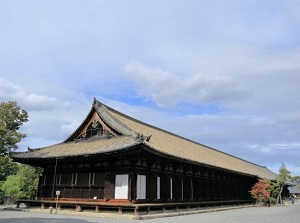 Sanjusangen-do
Sanjusangen-do is a Buddhist temple located about 1.5 km east of Kyoto station.
The north side faces Shichijo Street, and there is Kyoto National Museum to the north.
"U" and the last "o" are pronounced long, so it is read as "Sanjûsangen-dô".
And the formal name is "The main hall of Rengeou-in (蓮華王院)".
In 1165, a large temple with many buildings was completed in this place.
But it was destroyed by fire in 1249, then only the main hall was rebuilt in 1266.
It is current Sanjusangen-do.
"Sanjusangen-do" means "temple with 33 column spacings".
The 33 column spacings are set up inside the temple, and we can see 35 column spacings outside of the temple.
This temple has such many columns, so it is very long.
The length of the temple is about 121 meters.
It is designated as a national treasure.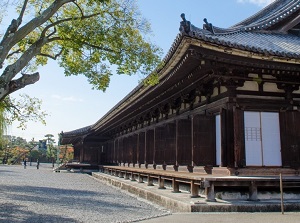 Sanjusangen-do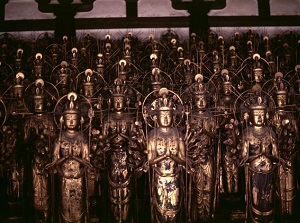 Statues of Senju-Kannon (©JNTO)
In this long temple, there are a considerable number of Buddha statues.
A big statue of the Goddess of Kannon with many arms ("Senju-Kannon") is enshrined in the center of the temple.
It is the principle image of this temple.
It was created in 1254, and its height is about 3.35 meters.
It is also a national treasure.
And 1,000 statues are set up on the both side of the main large statue. (500 statues on the left side and 500 statues on the right side).
They are also statues of Senju-Kannon.
All of them are about 1.6 to 1.7 meters high, and it is said that each statue was created by a different sculptor around the 13th century.
All of them are arranged in 10 rows orderly.
There is another statue behind the main big statue, so the total number of the small statues is 1,001.
It is said that one of them has a face similar to you.
But, taking photos is prohibited in the temple.
How to get here
By route bus, About 9 minutes from Kyoto station to Hakubutsukan-Sanjusangendo stop.
Hotels in Higashiyama area
Other Tourist Attractions in Kyoto Prefecture