Higashiyama hot spring resort [
東山温泉

]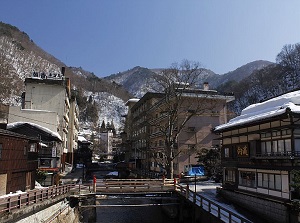 Higashiyama Onsen in winter
Photo by Fukushima Prefecture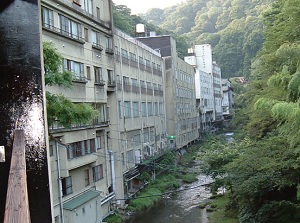 River along Higashiyama Onsen
Photo by Fukushima Prefecture
Higashiyama Onsen is a hot spring resort in a gorge to the east of the center of Aizu-Wakamatsu city.
It is located 1 km south of Aizu Samurai Residence and about 3 km east-southeast of Tsurugajo castle.
Many hotels and ryokans are along a river, and we can see some waterfalls around the resort.
It is said that this hot spring was found by Priest Gyoki in early 8th century.
This resort has several groups of geisha girl.
If you want to see, please reserve through the hotel that you stay.
(The charge is 15,000 yen per 90 minutes.)
They visit your room, play Japanese dances, sing songs and play various games with you.
How to get here
By sightseeing route bus "Akabee", about 17 minutes from Aizu-Wakamatsu station.
By sightseeing route bus "Haikara-san", about 18 minutes from Tsurugajo castle.
Hotels around Higashiyama Onsen
Other Tourist Attractions in Aizu-Wakamatsu city