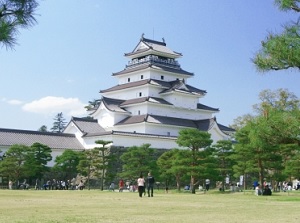 Tsurugajo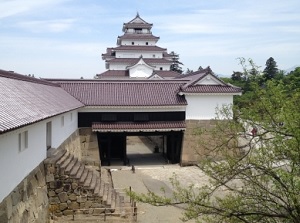 A gate of Tsurugajo
Tsurugajo is a castle in the center of Aizu-Wakamatsu city.
It is located 2.5 km south of JR Aizu-Wakamatsu station.
"Tsurugajo" is the common name and means "Castle of crane".
The formal name is "Wakamatsu Castle".
It was originally built in 1384, and was reconstructed to the current style in 1593.
After the end of the feudal period by samurai, the new Meiji government broke down the most buildings of the castle in 1874, just before the demolition.
The current castle tower was restored as a museum in 1965.
It is a five‐storied castle tower, and the top floor is an observatory room.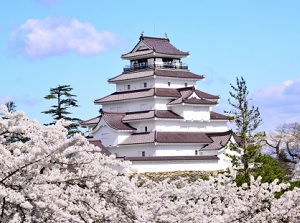 Tsurugajo in spring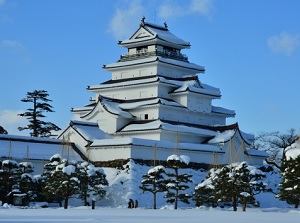 Tsurugajo covered with snow
To restore the castle tower, some old documents and photoes are used.
Especilly, the photoes of the scene of the original castle were valuable.
They were the photoes taken by a tourist party from France in 1872.
The site of the castle is surrounded with moats.
The main site is about 250 meters north to south, and about 300 meters east to west.
The castle tower in the center of the site, and there are some turrets and a shrine.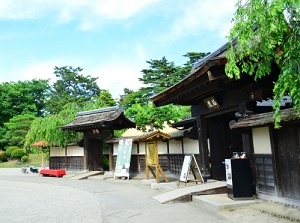 Entrance of Rinkaku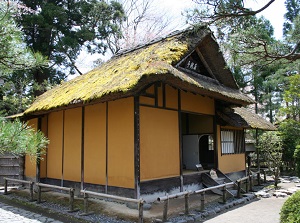 Rinkaku
Photo by Fukushima Prefecture
There is an old teahouse Rinkaku (麟閣).
It is said that the son of Sen no Rikyu built this teahouse in the early 17th century.
(Sen no Rikyu established Japanese tea ceremony.)
When the castle was demolished in the 1870s, Morikawa Zenbei who was a master of tea ceremony relocated and reconstructed the teahouse in his house in 1872.
Then, his family had been working to preserve the teahouse.
In 1990, Wakamatsu city relocated and reconstructed it again to the original place in the castle.
How to get here
By sightseeing route bus "Haikara-san", about 20 minutes from Aizu-Wakamatsu station.
Other Tourist Attractions in Aizu-Wakamatsu city