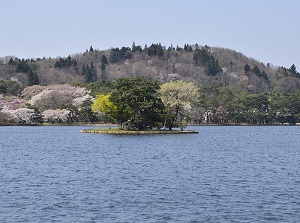 Nanko Park
Photo by Fukushima Prefecture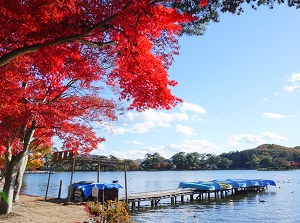 Nanko Park in autumn
Photo by Fukushima Prefecture
Nanko Park is a park located about 2 km south of JR Shirakawa station, and is in the suburbs of the city.
"Nanko" means "South Lake", and this park is around a lake.
The lake is about 650 meters from west to east and about 300 meters from north to south.
The lakeside was originally a swamp.
The great lord, Matsudaira Sadanobu constructed a park like a Japanese garden on the swamp in 1801.
At that time, there was the class system in Japan, and samurai was in higher class than common people.
But Sadanobu allowed all people to rest and enjoy the scenery in this park.
So, this park is considered as the oldest municipal park in Japan.
There is a teahouse built by Sadanobu by the lakeside.
It is Kyorakutei (共楽亭) and there are two Japanese rooms in the teahouse.
(Because it is designated as an important cultural asset by the city, we can't see the inside.)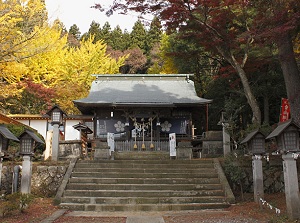 Nanko Shrine
Photo by Fukushima Prefecture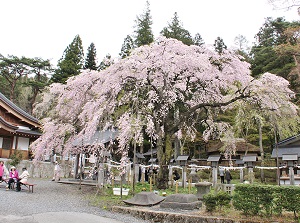 Rakuouzakura
Photo by Fukushima Prefecture
There is Nanko Shrine (南湖神社) to the northeast of Kyorakutei.
It was established for enshrining Matsudaira Sadanobu in 1922.
In the precinct of the shrine, there is Rakuouzakura (楽翁桜).
It is a weeping cherry tree about 200 years old.
It is said that Matsudaira Sadanobu himself planted the tree.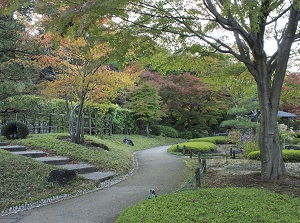 Suirakuen
Photo by Fukushima Prefecture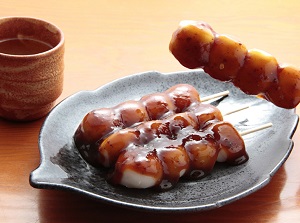 Nanko Dango
Photo by Fukushima Prefecture
Near Nanko Shrine, there is a Japanese garden Suirakuen (翠楽苑).
It was completed in 1995.
The cafes around Nanko Shrine serve Nanko Dango.
It is sweet rice dumpling and is the specialty of Nanko Park.
How to get here
By route bus, about 17 minutes from JR Shirakawa station.
Hotels in Shirakawa city
Other Tourist Attractions in Shirakawa city