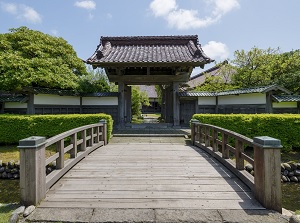 Entrance of Chidokan
Photo by Yamagata Prefecture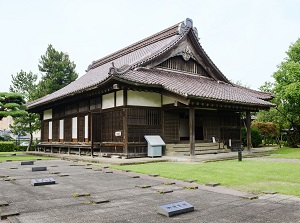 Main building of Chidokan
Photo by Yamagata Prefecture
Chidokan is the builiding of former school of Shonai Domain.
It is located at just southeast of Tsuruoka Park.
The formal name is Shonai Hankô Chidôkan (庄内藩校致道館).
It was built by Shonai Domain in 1805.
Shonai Domain was a local government governing the northwest area of Yamagata Prefecture.
The school had the purpose to develop the human resources to contribute to the operation of the domain.
The senior samurai children over 10 years old studied in this school.
And this school accepted even the excellent children other than samurai.
(At that time, general people such as farmer, craftsman, merchant, etc. were ranked lower than samurai.)
The school had five classes, and each pupil was able to advance to the higher class by regular exam at any age.
They had learned mainly "Four Books and Five Classics", the authoritative books of Confucianism in China written before 300 B.C.
It is said that the school had the policy to study for themselves.
This school was closed in 1873 because modern education system was established by new Meiji government.
Now this site has a hall, a temple for Confucius and some other buildings and gates.
How to get here
By route bus, about 10 minutes from JR Tsuruoka station.
Other Tourist Attractions in Tsuruoka city