Otamoi coast & Blue Cave [
オタモイ海岸、青の洞窟

]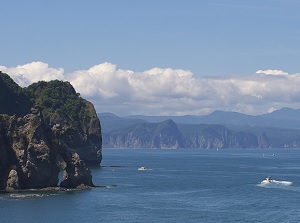 Otamoi coast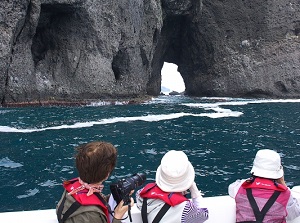 Window rock of Otamoi coast
Otamoi coast is located to the west of the cape with Nishin Goten and Otaru Aquarium.
The length is about 9 km, and there are many cliffs and strange rocks along the coastline.
The scenic area is a part of Niseko-Shakotan Quasi-National Park.
Main spots of the coastline are "Akaiwa coast" (the cliff 300 meters high) and "Madoiwa" (Window rock).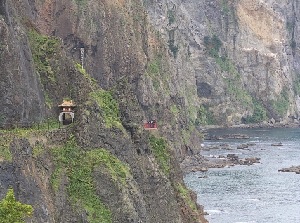 Gate of ruin on Otamoi coast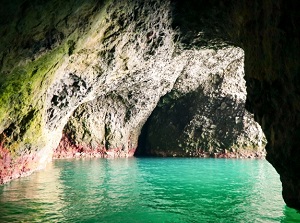 Blue Cave of Otamoi coast
And you can see a gate of ruin on the cliff.
An amusement park was constructed in the early 20th century, but was destroyed by fire in 1952.
Only a few structures remain now.
It is a unique scenery.
Near the west end of the coast, there is Blue Cave.
It is similar to famous Blue Grotto of Capri island in Italy.
Because of clear water, the color of sea inside the cave is beautiful.
A cruise ship is operated from Otaru Port.
For the cruise of Blue Cave, another company operates the cruise ship.
It also starts from Otaru Port.
How to get here
Use above cruising tours.
Hotels in Otaru
Other Tourist Attractions in Otaru