Bank of Japan Otaru Museum [
日本銀行旧小樽支店金融資料館

]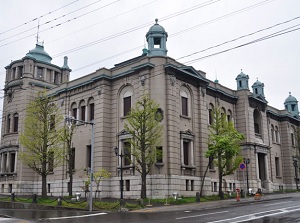 Photo by Railstation.net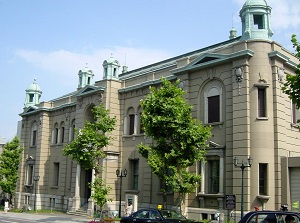 Bank of Japan Otaru Museum is located about 0.6 km east‐southeast of JR Otaru station.
"Bank of Japan" is the central bank of Japan, and issues the Bank of Japan notes.
In the early 20th century, Otaru city was developing as the center of commerce in Hokkaido.
Many banks were opened in Otaru, so Otaru was called "Wall Street in Hokkaido".
Therefore Bank of Japan also opened a branch office here, and this western-style building was built in 1912.
The office had been used until 2002, but the business function had been moved to Sapporo branch at that time.
And since 2003, this building is opened to public as a museum of finance for introduction of Bank of Japan.
You can observe the museum for free.
In the museum, you can experience lifting the simulated notebanks of one hundred million yen.
And the guided tour is held at 14:00 and 15:00.
How to get here
About 0.8 km walk from JR Otaru station.
Or, 2 minutes by "Otaru Sansaku Bus" (Otaru Stroller's Bus) from JR Otaru station.
Hotels in Otaru
Other Tourist Attractions in Otaru