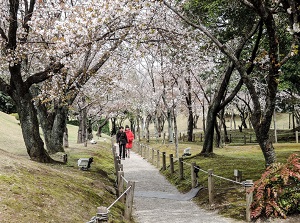 Path in Suizenji Jojuen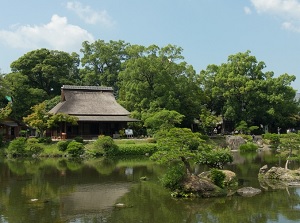 A house by the pond in Suizenji Jojuen
Suizenji Jojuen is a Japanese garden located about 4 km southeast of Kumamoto Castle and about 5 km east of Kumamoto station.
"O" in the words is pronounced long, so it is read as "Suizenji J&ocircc;juen".
It is in Suizenji district and is also called as Suizenji Park.
Hosokawa Tadatoshi (1586-1641) was the lord of Kumamoto Domain and he built a villa in this place in 1636.
Then, Hosokawa Tsunatoshi (1643-1714), a grandson of Tadatoshi, completed current garden.
It is about 7.3 hectares in area, and is about 250 meters from east to west and about 300 meters from north to south.
There is a large pond in the center of the garden, and small hills, pine trees, lawns are around a pond.
It is said that each spot in the garden presented a famous scenery along Tokaido which is the route between Tokyo and Kyoto and is the busiest route in Japan.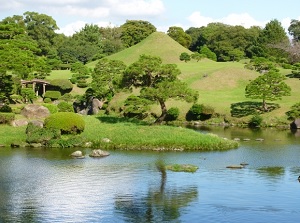 Hill shaped like Mt. Fuji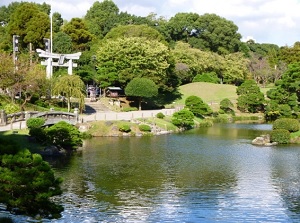 Entrance of Izumi Shrine
In addition, there is Izumi Shrine (出水神社) in the north part of the garden.
It was established in 1878, and the lords of Kumamoto Domain from Hosokawa family have been enshrined as the gods.
How to get here
By Kyushu-Shinaken, to Kumamoto, 32 to 50 minutes from Hakata.
From Kumamoto station, by streetcar, get off at Suizenki-koen stop.
Hotels around Suizenji Jojuen
Other Tourist Attractions in Kumamoto Prefecture