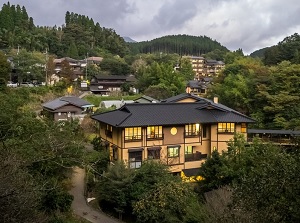 Kurokawa Onsen town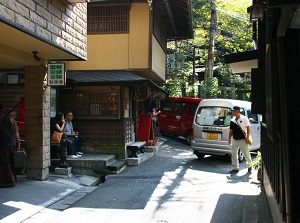 Narrow street in Kurokawa Onsen
Kurokawa Onsen is a hot spring resort located about 30 km north of JR Aso station, and is out of the somma of mount Aso.
It is a calm onsen town in the valley formed by Tanoharu River.
There are Kuju Mountains in Oita Prefecture to the east.
A long time ago, there is a man named Jinkichi in this area.
One day, he was caught for stealing a melon.
The official was going to cut his head off as a punishment.
But the official stopped the punishment because Jinkichi wanted to give the melon to his sick father.
The official cut a head of Jizou guardian deity off instead of Jinkichi.
After that, the Jizou in place of Jinkichi was worshipped by the village people.
Later, a samurai tried to take the Jizou away from there.
When the samurai was carring the Jizou, it got very heavy at a place.
The samurai couldn't move the Jizou, so the samurai had left the Jizou there.
The village people found the stolen Jizou, and moved it on a rock nearby.
Suddenly, hot water gushed out under the rock.
The Jizou gave the good bath to the village people.
It was the current Kurokawa hot spring.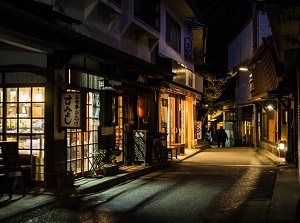 Kurokawa Onsen town in the evening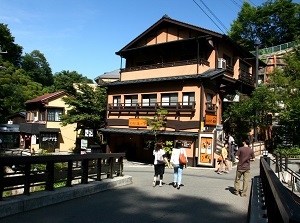 Souvenir shop in Kurokawa Onsen
Kurokawa hot spring resort had been rustic, because it had been a therapeutic bath for the village people.
Since the 1980s, such rustic hot spring resorts had become a boom, then Kurokawa Onsen became one of the popular onsens in Japan.
There are 30 ryokans along the river for about 3 km.
All ryokans are Japanese-style, and most of them have outdoor bathes.
We can get a ticket for outdoor bath in the onsen town.
By the ticket, we can visit 3 outdoor bathes of 28 ryokans from 8:30 to 21:00.
How to get here
By express bus, about 3 hours from Kumamoto station, about 50 minutes from JR Aso station, about 2.5 hours from Beppu Onsen, about 1.5 hours fom Yufuin Onsen.
Hotels around Kurokawa Onsen
Other Tourist Attractions in Kumamoto Prefecture