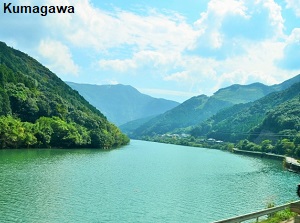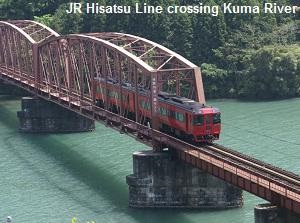 Kuma River ("Kumagawa" in Japanese) flows in the south part of Kumamoto Prefecture.
The total length is 115 km, and Hitoyoshi Basin is formed in the middle part of the river.
In Hitoyoshi Basin, there is Hitoyoshi city which had been a castle town since the 17th century.
There is Yatsushiro city at the mouth of the river.
The section from Hitoyoshi to Yatsushiro is a narrow valley about 50 km long.
It has one of the swiftest currents in Japan.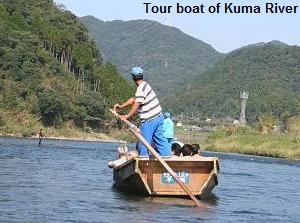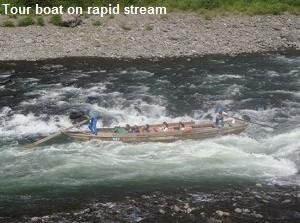 The tours floating down the river are conducted near Hitoyoshi city.
It is operated by small boat.
It takes about 50 minutes.
Because the disembarking point is about 3 km far away from the boarding point, the shuttle bus is operated.
From December to February, Kotatsu (table with heater to warm the feet) is set up in the boat for passengers.
Kyusendo (
球泉洞

)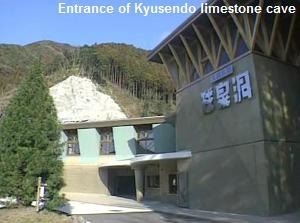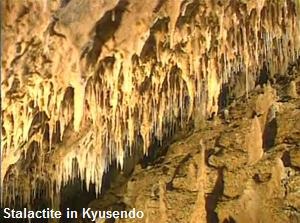 Kyusendo is a limestone cave.
"U" and "o" in the word are pronounced long, so it is read as "Kyûsendô".
It is located about 16 km downstream of Kuma River from Hitoyoshi city.
The limestone cave was discovered in 1973.
The total length of the cave is about 4.8 km, and it is the longest cave in Kyushu Island.
The stratum of limestone was formed under the seabed about 300 million years ago.
After that, the ground was elevated by the earth's movement.
Then the rain water including carbon dioxide eroded the stratum and this has formed the limestone cave.
And the water has been flowing into Kuma River.
It is estimated that about 20,000 bats are living in the cave.
The part about 800 meters long is opened to the public.
It takes about 30 minutes to tour around the cave.
The nearest station is Kyusendo of JR Hisatu Line.
The cave is located about 2 km from the station.
You can telephone for free shuttle bus at the station.
How to get here
From Kumamoto to Hitoyoshi, by limited express of JR Hisatsu Line, about 1 hour 30 minutes.
To the boarding point of Hitoyoshi, about 1.4 km walk.
To Kyusendo, by local train of JR Hisatsu Line, 24 minutes from Hitoyoshi.
Other Tourist Attractions in Kumamoto Prefecture