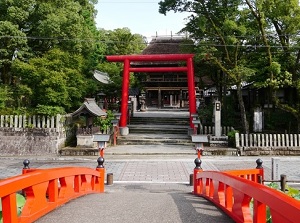 Entrance of Aoi Aso Shrine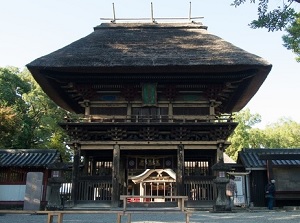 Roumon of Aoi Aso Shrine
Aoi Aso Shrine is a Shinto shrine, and is located about 400 meters south of JR Hitoyoshi station.
According to shrine legend, this shrine was established by dividing a tutelary deity of Aso Shrine near Mount Aso and enshrining it in 806.
At that time, the name of this area was Aoi village.
Since the late 11th century, this shrine had been worshipped by the lord of Hitoyoshi and developed.
The main buildings were built by Sagara Nagatsune (1574-1636) who was the lord of Hitoyoshi Domain from 1610 to 1613.
There is Roumon gate (楼門) at the entrance of main precinct.
It has a thatched roof and the height is about 12 meters.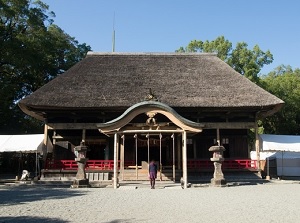 Haiden of Aoi Aso Shrine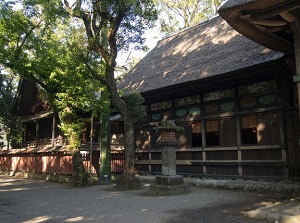 Heiden and Honden of Aoi Aso Shrine
In the precinct, there is Haiden (拝殿, Worship hall).
It is also a thatched-roofed building.
Heiden (幣殿, Hall of offerings), Rou (廊, Corridor) and Honden (本殿, Main shrine) are connected behind Haiden,
These five buildings are designated as national treasures.
How to get here
From Kumamoto to Hitoyoshi, by limited express of JR Hisatsu Line, about 1 hour 30 minutes.
Then, about 400 meters walk.
Other Tourist Attractions in Kumamoto Prefecture