Kumano Hongu Taisha shrine [
熊野本宮大社

]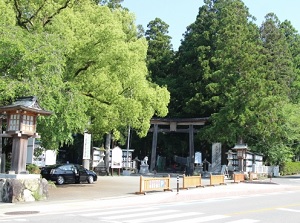 Entrance of Kumano Hongu Taisha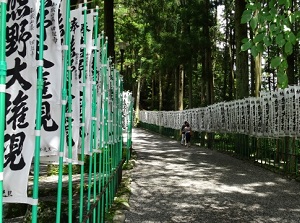 Approach of Kumano Hongu Taisha
Kumano Hongu Taisha is a Shinto Shrine, and is one of the Three Grand Shrines of Kumano ("Kumano Sanzan" in Japanese).
It is in the mountain located about 30 km northwest of Kumano Hayatama Taisha shrine in Shingu city.
It is a part of "Sacred Sites and Pilgrimage Routes in the Kii Mountain Range" designated as a UNESCO World Heritage Site.
It is said that it was founded in 33.B.C. in legend.
It is hard to believe, but some say that this shrine was founded around the 3rd to 4th centuries in fact.
In any case, Kumano Hongu Taisha is the oldest shrine among three ones of Kumano Sanzan.
The shrine is in the valley formed by Kumano River.
The site is on the hill, but the original shrine was on a sandbar along the river.
Since the late 19th century when Japan was developing for the construction of a modern nation, many trees around this mountains had been logged.
So the shrine were washed away by a flood in 1889, for the first time in its history.
After that, the shrine was moved to the current place.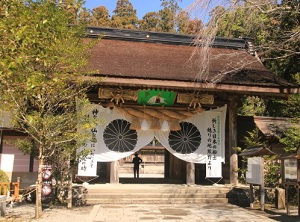 Main gate of Kumano Hongu Taisha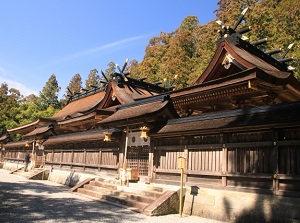 Main shrine of Kumano Hongu Taisha
There were 12 original shrines in the original site.
In the current precinct, four shrines had been rebuilt.
And each shrine enshrines both a god of Shinto and a Buddha statue.
To the precinct, there is an approach with stone steps about 200 meters long.
Eight other shrines were not rebuilt, and two small shrines are set up in the original site as the lost eight shrines.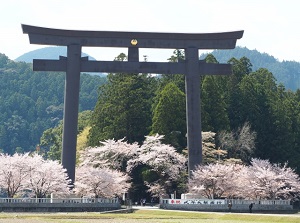 Oyunohara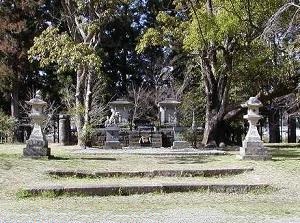 Shrines in Oyunohara
The original site is located about 500 meters south of current precinct.
It is called Ôyunohara (大斎原).
There is a big Torii gate and the sacred area is surrounded with forest.
Cherry blossoms bloom in spring.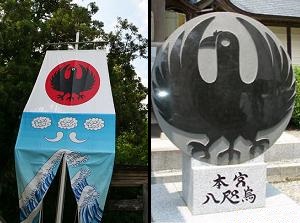 Yatagarasu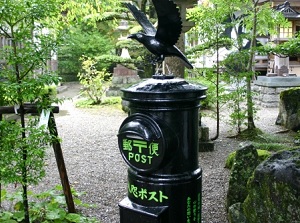 Yatagarasgu Postbox
By the way, when you visit this shrine, you may find the mark of crow with three legs.
It is called "Yatagarasu" in Japanese.
In Japanese myth, when the first Emperor marched to create a new human state from Kumano to Asuka in 660 B.C., Yatagarasu led him to reach Asuka through the deep mountains.
So it became the symbol of Kumano area.
Incidentally, the mark of Yatagarasu has been used as the symbol of Japan Football Association since 1931.
We can find the mark on the uniform of Japan national football team.
In addition, there is "Yatagarasgu Postbox" in the precinct.
It is a black postbox like crow, of course, you can post your letter or postcard.
How to get here
By route bus, about 1 hour and 20 minutes from JR Shingu station.
Kumano Kotsu bus company operates the main bus routes in this area.
It is available to travel around Kumano Sanzan.
Hotels around Kumano Hongu Taisha
Other Tourist Attractions in Wakayama Prefecture