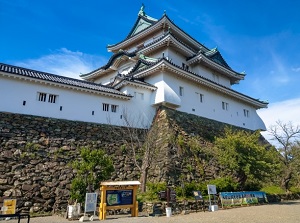 Castle tower of Wakayama Castle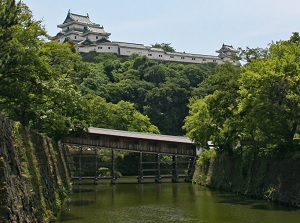 A bridge and moat of Wakayama Castle
Wakayama Castle is located in the center of Wakayama city.
It is about 2 km west of JR Wakayama station.
This castle was built on the order of Toyotomi Hideyoshi (1537-1598) in 1585.
He was the strong warlord and united Japan in the late 16th century.
After the foundation of Edo government, Tokugawa Yorinobu (1602-1671) came as the lord of this castle.
He was one of sons of Tokugawa Ieyasu (1543-1616) who was the founder of Edo government and the 1st Shogun.
So Wakayama Castle became one of three important castles where Shogun family lived.
The castle tower and the other buildings were destroyed by fire of lightning strike in 1846.
According the rules for samurai family, rebuilding destroyed castle had been prohibited.
But, because this was a Shogun family's castle, the castle tower was rebuilt in 1850.
After the end of feudal period in 1868, the site of this castle was opened to the public as a park in 1901.
In 1935, most of the buildings of this castle was designated as national treasures.
But all of them were destroyed in US air raid in 1945 in the World War II.
The drawings had created when the original building was rebuilt in 1850.
By using them and remaining photoes, current castle tower and some other buildings were restored in 1958.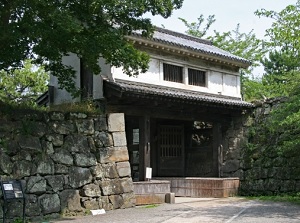 Okaguchi-mon of Wakayama Castle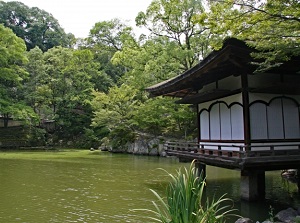 Nishinomaru Teien of Wakayama Castle
The site is about 450 meters from east to west and about 400 meters from north to south.
There are the moats on the north and east sides.
There is the main castle tower in the center of the site, and a few small towers are connected with corridors.
There is the museum in it, so we can visit the inside.
In the north part of the site, there is a Japanese garden Nishinomaru Teien.
It was built in the early 17th century, and was restored in 1973.
How to get here
By JR Hanwa Line, to Wakayama, about 1 hour from Tennoji (Osaka).
Or, by Nankai Railway, to Wakayama-shi, about 1 hour and 5 minutes from Nanba (Osaka).
From JR Wakayama station, 6 minutes by route bus.
From Nankai Wakayama-shi station, about 1 km walk.
Hotels around Wakayama Castle
Other Tourist Attractions in Wakayama Prefecture