Kumano Hayatama Taisha shrine [
熊野速玉大社

]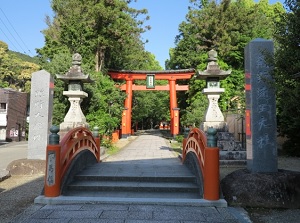 Approach to Kumano Hayatama Taisha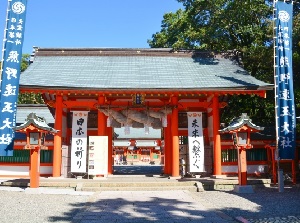 Main gate of Kumano Hayatama Taisha
Kumano Hayatama Taisha is a Shinto Shrine, and is one of the Three Grand Shrines of Kumano ("Kumano Sanzan" in Japanese).
It is in Shingu city at the eastern edge of Wakayama Prefecture, and is located about 1.5 km northwest of JR Shingu station.
It is a part of "Sacred Sites and Pilgrimage Routes in the Kii Mountain Range" designated as a UNESCO World Heritage Site.
It is said that it was founded in 128 in legend.
It is hard to believe, but it is sure that it had existed before the 8th century.
The first shrine was built before the construction of Kumano Nachi Taisha shrine, one of Kumano Sanzan, located about 15 km southwest of this shrine.
It was built on the mountainside of Mount Kamikura to the south of the current shrine.
Later, the shrine was moved to the current place.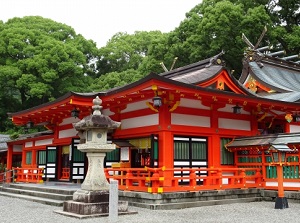 Main shrine of Kumano Hayatama Taisha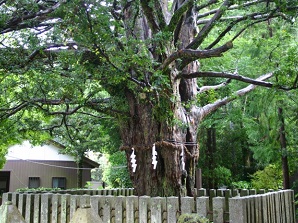 Nagi tree in Kumano Hayatama Taisha
In the precinct, 13 shrines are set up in the seven sacred buildings.
And each shrine enshrines both a god of Shinto and a Buddha statue.
By the approach to the shrine, there is a big "nagi" tree.
"Nagi" is a kind of conifer, and is distributed in Japan, Taiwan, and southern China.
The nagi tree is about 1,000 years old, and is the sacred tree of this shrine.
It is designated as a national natural treasure.
"Nagi" means "lull of sea" as another word in Japanese.
So the leaf of "nagi" had been a charm for the people who wished to have a safe trip.
And the leaf veins run only longitudinally, so it is difficult to tear off.
Also, it had been a charm that love doesn't break.
Of course, you must not pick the leaves of the nagi tree in this shrine.
The charms with the spirit of "nagi" are sold in the shrine.
Please buy them.
How to get here
By JR limited express, to Shingu, about 3 hours 30 to 50 minutes from Tennoji (Osaka), about 1 hour and 30 to 40 minutes fron Shirahama, about 3 hours and 10 to 20 minutes from Nagoya.
Then about 20 minutes walk from Shingu station.
Kumano Kotsu bus company operates the main bus routes in this area.
It is available to travel around Kumano Sanzan.
Hotels around Kumano Hayatama Taisha
Other Tourist Attractions in Wakayama Prefecture