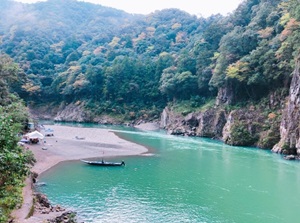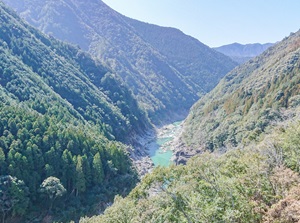 Doro Gorge ("Doro-kyo" in Japanese) is a gorge formed by Kitayama River which is a tributary of Kumano River.
Kumano River flows by Kumano Hongu Taisha shrine and Kumano Hayatama Taisha shrine.
It flows into Pacific Ocean at the center of Shingu city.
The distance from Kumano Hongu Taisha to Kumano Hayatama Taisha is about 30 km.
The junction of Kumano River and Kitayama River is at about 10 km from Kumano Hongu Taisha.
Doro-kyo is located about 20 km upstream of Kitayama River from the junction.
The gorge named "Doro-kyo" is about 10 km long from there.
The area is deep in the mountain and only a few small villages are dotted along the river.
But the river contains a great volume of water.
There are a few small suspension bridges such as Yamabiko-bashi bridge.
Especially a 3-kilometer section of the downstream has many high cliffs, huge rocks, strange rocks and caves, so it is designated as a national natural treasure.
This section is called Dorohatcho (瀞八丁).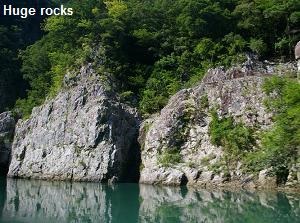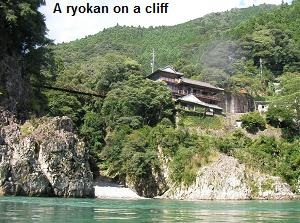 To tour around Doro-kyo, we generally board the high-speed sightseeing boat.
The boarding point is Shiko, and is near the junction of the rivers.
It is about 20 km from Shingu station and about 14 km from Kumano Hongu Taisha.
The boat tours both Dorohatcho and the upstream part of Doro-kyo, and it takes about 2 hours.
It is operated by Kumano Kotsu company.
It is the bus company in this area, so the discount ticket of the boat and bus is sold.
How to get here
By route bus, to Shiko stop, about 38 minutes from JR Shingu station, about 16 minutes from Kumano Hongu Taisha.
Hotels around Kumano Hongu Taisha
Other Tourist Attractions in Wakayama Prefecture