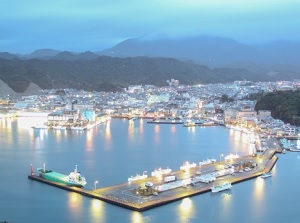 Katsuura Port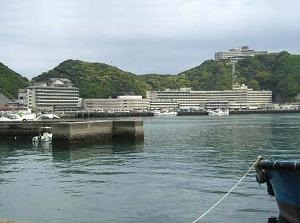 Hotels around Katsuura Port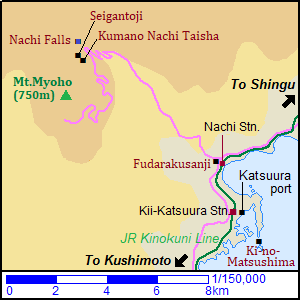 Katsuura is a part of Nachi-Katsuura town at the southeast part of Wakayama Prefecture.
It is located about 30 km northeast of Kushimoto town, and is about 250 km from Osaka.
Katsuura is the central area in the town, and has a major fishing port.
The port is inside a cove, and is surrounded with a small peninsula lika a breakwater on the east side.
An island is also at the entrance of the cove, so the cove is quiet and is useful as a port.
Around the cove, there are many hot springs.
Therefore, Katsuura is one of the major hot spring resorts in Wakayama Prefecture.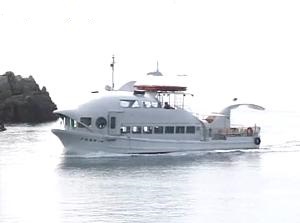 Pleasure boat to Ki-no-Matsushima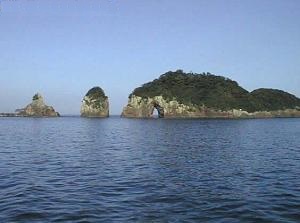 Ki-no-Matsushima
Out of the cove, Pacific Ocean spreads.
Near the entrance of the cove, there are several small rocky islands.
It looks like Matsushima in Miyagi Prefecture which is one of popular scenic coasts.
So it is called Ki-no-Matsushima (紀の松島).
("Ki" is an old short name of Wakayama Prefecture.)
We can visit the area of the islands from Katsuura Port by pleasure boat.
Katsuura is the entrance to Kumano Nachi Taisha shrine designated a World Heritage Site.
How to get here
By JR limited express, about 3.5 hours from Tennoji in Osaka, about 1.5 hours from Shirahama, and about 3.5 hours from Nagoya.
By express bus, about 10 hours from Tokyo (night bus).
Other Tourist Attractions in Wakayama Prefecture