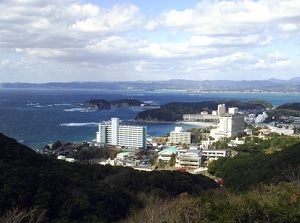 Shirahama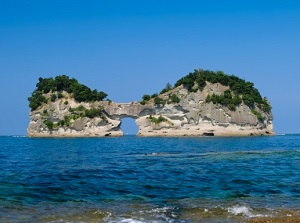 Engetsu Island in Shirahama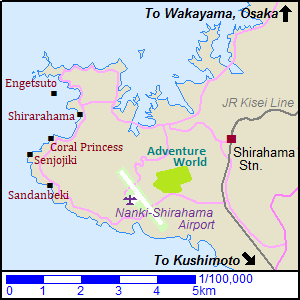 Shirahama is a resort town in the southwest part of Wakayama Prefecture.
It is located about 80 km south of Wakayama city.
"Shirahama" means "white beach".
Some towns with the same name are in Japan, so this town is often called Nanki-Shirahama. (南紀白浜, "Nanki" means the south part of Wakayama Prefecture.)
The main area is on a small peninsula, and the indented coastline faces Pacific Ocean.
Along the coastline, there are some good bathing beaches and scenic spots.
Shirahama area is a popular hot spring resort, so many resort hotels are dotted near the coast.
Also there are some public bathhouses and outdoor bathes.
The railway station of JR is to the east of the peninsula, and all limited express trains stop.
And there is Nanki-Shirahama Airport near the resort area, so it is very convenient to visit here from Tokyo.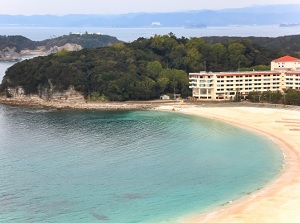 Shirarahama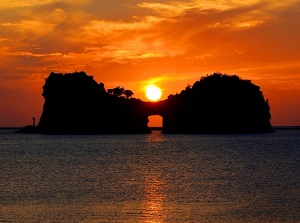 Sunset at Engetsu Island
Shirarahama beach (白良浜) is the main beach of Shirahama.
(The name is not "Shirahama" but "Shirarahama".)
It is a beautiful beach of white sands and the length is about 640 meters.
We can swim from early May.
And some outdoor bathes are around this beach, so we can enjoy through a whole year.
There is small Engetsu Island (円月島, "Engetsutô" in Japanese) about 1 km northwest of Shirarahama.
It is a rock island with a round hole and is a symbol of Shirahama.
The view of sunset is popular.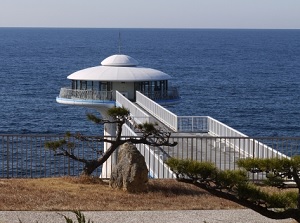 Coral Princess in Shirarahama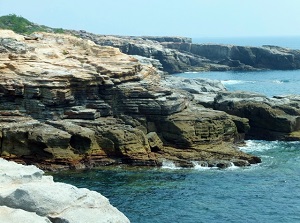 Senjojiki in Shirarahama
Shirahama undersea observation tower is located about 1 km southwest of Shirarahama.
The nickname is Coral Princess.
We can see the world of the sea about 8 meters deep.
Around this area, tropical fishes also come.
Senjojiki (千畳敷) is very wide sloping bedrock facing the sea.
It is located about 2 km southwest of Shirarahama.
The bedrock is made of friable sandstone, so the surface has been eroded by waves.
This spot is also popular for the view of sunset.
And Sandanbeki (三段壁) is about 0.6 km south of Senjojiki.
The steep rocky cliffs about 50 to 60 meter high facing the sea.
The length is about 2 km.
There is an observatory on the cliff.
The cliff has a sea cave.
We can go down from the top of the cliff in an elevator.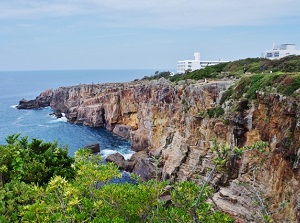 Sandanbeki in Shirarahama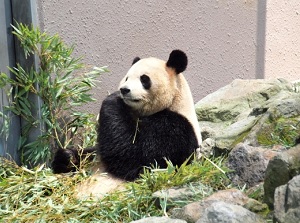 Giant panda in Adventure World
There is an amusement park Adventure World about 3 km southeast of Shirarahama.
It is about 2.5 km west of JR Shirahama station and about 2 km east of Shirahama Airport.
There are a zoo, an aquarium, and an amusement park in the facility.
Especially, we can see some Giant Pandas in this park.
This park is one of research partners of "Chengdu Research Base of Giant Panda Breeding" in China.
How to get here
By JR limited express from Tennoji in Osaka to Shirahama station, about 2 hour 5 to 10 minutes.
Then, by route bus, about 15 to 20 minutes around Shirarahama from Shirahama station.
The route buses run along the coast with above popular spots.
By airplane, about 1 hour and 10 to 15 minutes from Haneda (Tokyo) to Nanki-Shirahama airport.
From airport, about 10 to 15 minutes around Shirarahama by route bus.
Other Tourist Attractions in Wakayama Prefecture