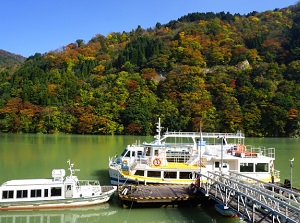 Port of Komaki Dam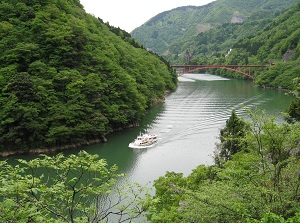 Shogawa Gorge
Photo by Toyama Prefectural Tourism Association
Shogawa is one of main rivers flowing in Toyama Prefecture.
It flows from south to north in the western area of the prefecture.
In the upper reaches of Shogawa, there are Shirakawa-go and Gokayama.
These are popular villages with unique traditional houses.
Shogawa Gorge is in the middle reaches of Shogawa.
Komaki Dam is located about 20 km south of Takaoka city.
The downstream section about 5 km long is a gorge, and there are a few hot spring hotels along the river.
The upstream section from Komaki Dam is the main gorge.
It is a winding dam lake, so the surface of the river is very calm.
The mountains on the both sides of the river are covered with deep forest.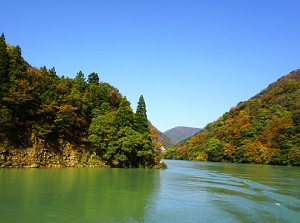 Shogawa Gorge in autumn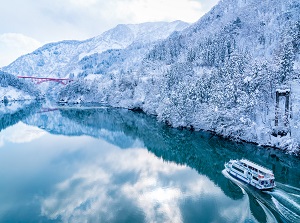 Shogawa Gorge in winter
Photo by Toyama Prefectural Tourism Association
From Komaki Dam, a pleasure boat is operated to Oomaki Onsen about 8 km upstream.
We can enjoy the scenary of the forest in all seasons.
Oomaki Onsen has a hotel by the river, and the pleasure boat is the only transportation to the hotel.
Only the guest of the hotel can leave the boat there, and the other passengers must return to Komaki Dam.
It takes about 1 hour and 10 to 20 minutes to go to Oomaki Onsen and back.
There is also a short cruising for 25 minutes (about 3 km cruise).
How to get here
By route bus, from Takaoka station to Komaki-Entei stop (Komaki Dam), about 1 hour and 30 minutes.
Other Tourist Attractions in Toyama Prefecture