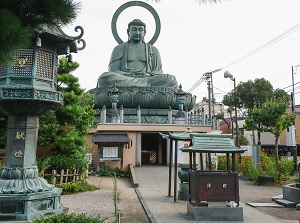 Takaoka Daibutsu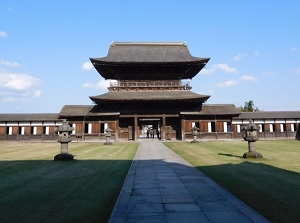 Zuiryuji temple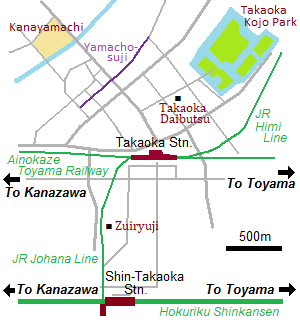 Takaoka is a city at the northwest part of Toyama Prefecture, and is located about 20 km west of Toyama city.
In the middle of the 8th century, Yakamochi Ootomo, an ancient politician, became an official in this area.
He was also a great poet, so he composed more than 220 poems for 5 years in this town.
Most of them had been selected in Man-yoshu which was compiled as the Japan's first anthology of poems in the late 8th century.
So Takaoka city is sometimes called "Town of Man-yo".
But substantive construction of the town was performed in the early 17th century.
And a castle was also built.
After that, Takaoka has developed as a commercial and industrial city.
Copperwares and lacquerwares in Takaoka are known.
Takaoka Daibutsu (
高岡大仏

)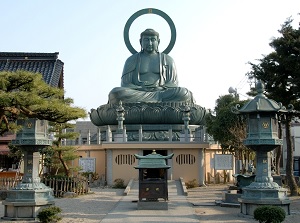 Takaoka Daibutsu
Photo by Takaoka city Tourism Association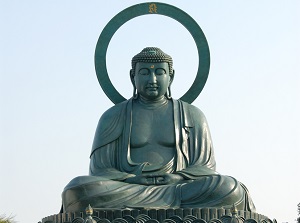 Face of Takaoka Daibutsu
Photo by Takaoka city Tourism Association
Takaoka Daibutsu is a giant statue of Buddha, and is in Daibutsuji temple (大佛寺) located about 0.5 km north of JR Takaoka station.
The first wooden Daibutsu in Takaoka was built in 1221.
After that, the statue had been destroyed by fire several times.
The current Daibutsu was rebuilt in 1933.
It was made of copper for avoiding from burning.
Of course, it was built with traditional skills of Takaoka's copperware.
The height is 15.85 meters and the total weight is about 13.1 tons.
When this Daibutsu was completed, Akiko Yosano (1878-1942, a famous Japanese female poet) said "This is more handsome than Kamakura Daibutsu".
Takaoka Kojô Park (
高岡古城公園

)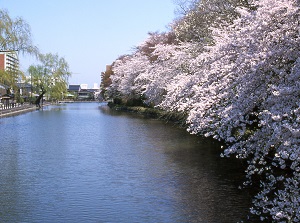 Takaoka Kojo Park in spring
Photo by Takaoka city Tourism Association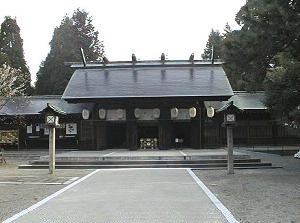 Imizu Shrine in Takaoka Kojo Park
Takaoka Kojô Park is a park where there was Takaoka Castle (高岡城).
It is located about 500 meters northeast of Takaoka Daibutsu and about 1 km northeast of Takaoka station.
Maeda Toshinaga (1562-1614) was a retired warload in Toyama castle.
In 1609, the castle had been destroyed by fire.
So he built Takaoka Castle, and lived here.
But he died in 1614, then the castle was demolished before long.
Since that, this site had used as the area of the government offices.
The site was opened to the public as a park in 1875.
The moats and mounds still remain.
There is Imizu Shrine (射水神社) in the center of the site, and a zoo and some other communal facilities are also in the site.
Yamachosuji street (
山町筋

)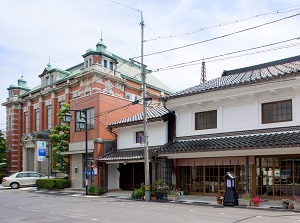 Buildings of Yamachosuji street
Photo by Toyama Prefectural Tourism Association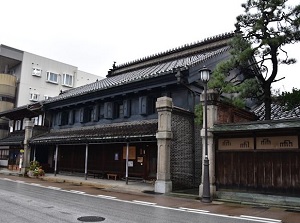 Sugano Residence in Yamachosuji street
Photo by Railstation.net
Yamachosuji is the street running from southwest to northeast, and is located about 0.7 km nortwest of Takaoka station.
Originally, the street was old Hokurikudo.
It was one of the main road in Edo Period (1603-1868) and connected Kyoto and Niigata.
The road was located just west side of Takaoka Castle, so commerce and industries developed in this town.
Many traditional buildings had remained, but Takaoka city was damaged by a great fire in 1900.
After that, fire-resistant buildings were built along this street until the early 20th century.
Now, such buildings form the antique scenery of the town.
The area was designated as one of the national preservation districts for groups of historic buildings.
Sugano Residence facing this street is a merchant house and is designated as a national important cultural property.
The inside is open to the public.
Kanayamachi town (
金屋町

)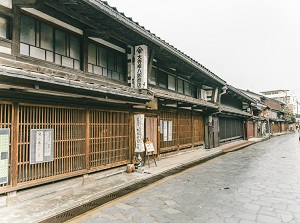 Old houses in Kanayamachi
Photo by Toyama Prefectural Tourism Association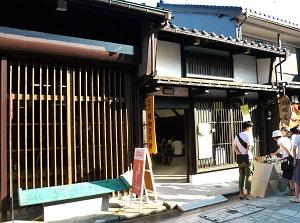 Foundry museum in Kanayamachi
Photo by Toyama Prefectural Tourism Association
Kanayamachi is an old town located about 1.5 km northwest of Takaoka station.
When Takaoka castle was built in 1609, the lord set up a foundry here to develope Takaoka city.
The craftsmanship led to Takaoka's copperware industry.
There are many old traditional houses in this town.
And some copperware workshops and a few temples are in this area.
Zuiryuji temple (
瑞龍寺

)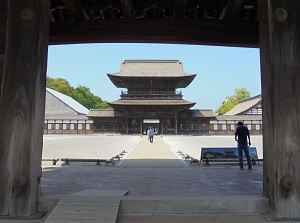 Sanmon gate of Zuiryuji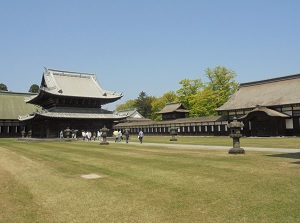 Butsuden (left) & Hattou (right) in Zuiryuji
Zuiryuji is a Buddhist temple located about 0.7 km south-southwest of Takaoka station.
After Toshinaga Maeda who built Takaoka castle died in 1614, Toshitsune (Toshinaga's brother) constructed this temple to enshrine Toshinaga.
The temple was completed in 1663.
The main gate was destroyed by fire in 1746, then it was rebuilt in 1820.
Buddhist sanctum, Main Hall and main gate have been designated as national treasures. And many other buildings have been designated as nationally important cultural properties.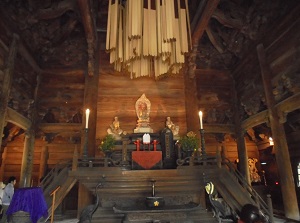 Inside of Zuiryuji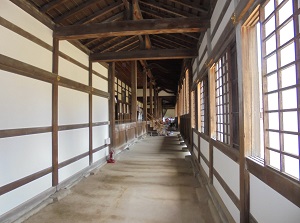 Corridor in Zuiryuji
Above buildings are aligned on a straight line, and a corridor surrounds them.
The scenery of the precinct and the buildings is very great.
From Takaoka station, about 8 minutes by route bus for Shin-Takaoka station.
How to get here
From Toyama to Takaoka, by Ainokaze Toyama Railway, about 18 minutes by local train.
Or, by Hokuriku Shinkansen, to Shin-Takaoka, 8 minutes from Toyama, 12 minutes from Kanazawa.
Between Takaoaka station and Shin-Takaoka station, about 12 minutes by route bus.
Hotels in Takaoka
Other Tourist Attractions in Toyama Prefecture