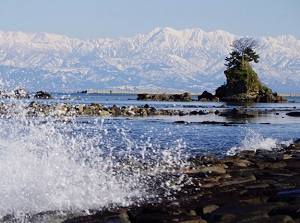 Me-iwa near Amaharashi coast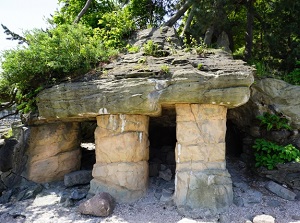 Yoshitsune-iwa on Amaharashi coast
Amaharashi coast is a southwestern coast of Toyama Bay.
It is located about 9 km north of the center of Takaoka city.
It has the most beautiful scenery in Toyama Bay.
In the late 12th century, Minamoto Yoritomo founded the Kamakura government.
Minamoto Yoshitsune who was Yoritomo's half brother was the person of merit to found the government.
But later, they were opposed to each other.
Yoritomo regarded Yoshitsune as an enemy against the government.
Yoshitsune escaped toward Tohoku Region from western Japan.
One day, he reached this coast.
It was rainy, so he had waited here until it stopped raining.
"Amaharashi" means "to stop raining".
We can see the white sand beach and a few unique rocks around the coast.
There is Yoshitsune-iwa rock (義経岩) on the coast.
It is said that Yoshitsune took shelter from the rain at the rock.
Now, there is a small shrine around the rock.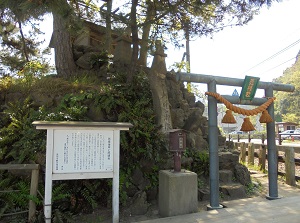 Shrine of Yoshitsune-iwa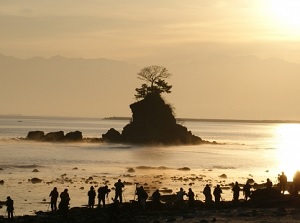 Foggy morning around Amaharashi coast
An attractive rocky island near the coast is Me-iwa (女岩).
A few trees are on the small island.
And the landscape of Tateyama mountains about 3,000 meters high is very beautiful.
It is said that Amaharashi coast is the only place where the mountains 3,000 meter high are seen across the sea in the world.
In winter and spring, we can see the beautiful mountains covered with snow.
And in late autumn and early winter, fog sometimes rises into the air like steam in the morning because the air becomes cold but the water of sea is not yet cold.
How to get here
From Takaoka to Amaharashi, about 20 minutes by local train of JR Himi Line.
About 400 meters from the station to Yoshitsune-iwa.
Hotels in Takaoka city
Other Tourist Attractions in Toyama Prefecture