National Museum of Nature and Science [
国立科学博物館

]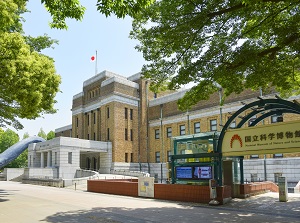 National Museum of Nature and Science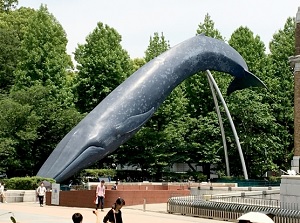 Monument of a whale in real size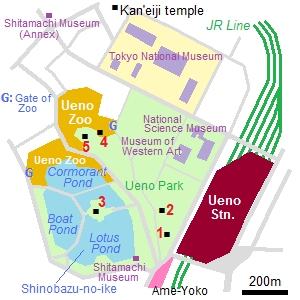 1) Statue of Takamori Saigo
2) Kiyomizu Kan-nondo 3) Bentendo
4) Five-story pagoda 5) Ueno Toshogu
National Museum of Nature and Science is a science museum next to National Museum of Western Art.
It offers a wide variety of natural history exhibitions and interactive scientific experiences.
So there are more than 4 million materials in the museum.
There are some national important cultural properties in the displaying materials.
A myriad year clock made by Tanaka Hisashige (1799-1881), an Japanese engeneer, in 1851 is worth seeing.
It has both Western-style and Japanese-style clocks, and shows the shape of moon, the date in Chinese sexagenary cycle and the position of sun and moon in the sky at Kyoto.
(He established his workshop in 1875, later, it became Toshiba company)
And, there are an astronomical telescope, a seismometer and a gramophone imported from Britain from the 1870's to the 1890's.
The following materials are a little unique.
Hachiko is a popular statue of a dog in Shibuya. (The real name is "Hachi".)
The stuffed Hachi is in this museum.
You can see both the statue and real Hachi in Tokyo.
See the page of Shibuya.
A specimen of giant squid is also interesting.
It was washed up on the shore in Tottori Prefecture in 1996, and the total body size is 7 to 8 meters.
It is said that Tom Hanks, an American actor, visited here to see this squid secretly when he came to Japan for promotion of his movie.
In addition, two kinds of stones on the moon are displayed.
They were brought back from the moon by Apollo spacecrafts in 1969 and 1972, and both were donated from the U.S. government to Japanese government.
How to get here
Get off at Ueno station (JR Yamanote or Keihin-Tohoku Line), or Keisei -Ueno station (Keisei Line)
Nearest stations of subway.
Ueno (●G16 Ginza Line, ●H18 Hibiya Line)