National Museum of Western Art [
国立西洋美術館

]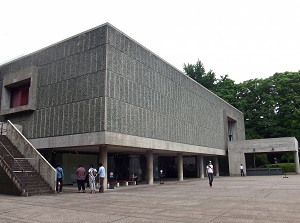 National Museum of Western Art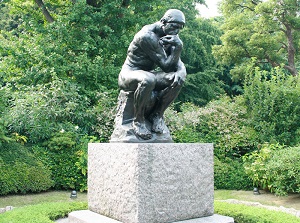 Rodin's The Thinker in the garden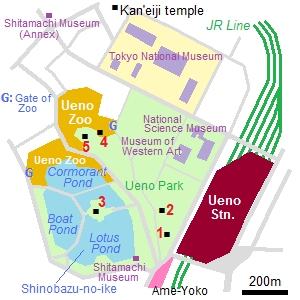 1) Statue of Takamori Saigo
2) Kiyomizu Kan-nondo 3) Bentendo
4) Five-story pagoda 5) Ueno Toshogu
National Museum of Western Art is the art museum specializing in western art.
It is located the east part of Ueno Park.
This museum houses over 4,500 works of paintings, sculpture from the 14th through the beginning of the 20th century.
The main artists are Rubens, Delacroix, Manet, Renoir, Monet, Van Gogh, Gauguin, etc.
And there are a few sculptures by Lodin in the garden.
Originally, many of the works were collected by Matsukata Kojiro (1865–1950), a Japanese businessman.
Before the World War II, he had left them in Musée Rodin in Paris.
After the war that Japan surrendered, the French government took over the works as the properties of an enemy's country.
In 1951, Japan concluded the San Francisco Peace Treaty with the Allies, then Japan recovered its independency.
After that, the French government met the requirement of returning the collection under certain conditions.
One of the conditions was construction an art museum for the collection.
And the Japanese government made Le Corbusier (1887-1965), a leading French architect, a request to construct the new museum.
Then, this museum completed and opened in 1959.
In 2016, this building was designated a World Heritage site as a work of "The Architectural Work of Le Corbusier, an Outstanding Contribution to the Modern Movement".
How to get here
Get off at Ueno station (JR Yamanote or Keihin-Tohoku Line), or Keisei -Ueno station (Keisei Line)
Nearest stations of subway.
Ueno (●G16 Ginza Line, ●H18 Hibiya Line)
Hotels around Ueno