Shitamachi Museum [
下町風俗資料館

]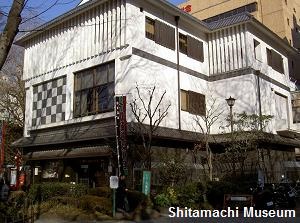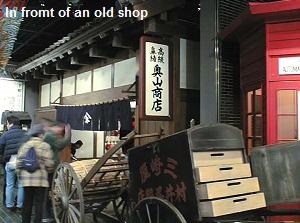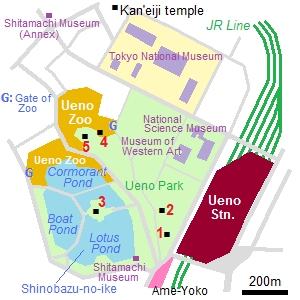 1) Statue of Takamori Saigo
2) Kiyomizu Kan-nondo 3) Bentendo
4) Five-story pagoda 5) Ueno Toshogu
Shitamachi Museum is the museum introducing the town of Tokyo around the Meiji, Taisho and early Showa Period (from late 19th to early 20th century).
The Japanese name is "Shitamachi-fuzoku shiryokan".
"Shitamachi" means "traditional districts for common people".
It is located near the Shinobazu pond and the south entrance of Ueno Park.
In the ground floor, there are the houses and shops in the Taisho Period (1912-1926).
In the rooms of them, furnitures and household goods of those days are set up.
And narrow alley between houses and communal well are also recreated.
On the second floor, many goods and tools for daily life in those days are exhibited.
They are livingware, toys, goods for annual events.
Some are still used in Japanese life.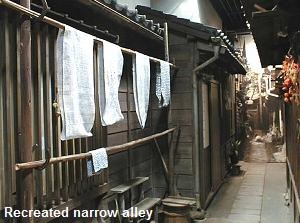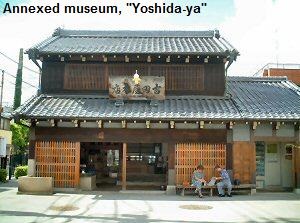 As the annexed museum, there is the Sake shop Yoshida-ya built in 1910, and it is located about 0.5 km northwest of Tokyo National Museum.
How to get here
Get off at Ueno station (JR Yamanote or Keihin-Tohoku Line), or Keisei -Ueno station (Keisei Line)
Nearest stations of subway.
Ueno (●G16 Ginza Line, ●H18 Hibiya Line)
Ueno-Okachimachi (●E09 Ooedo Line)

To Annex
Nearest stations of subway.
Ueno (●G16 Ginza Line, ●H17 Hibiya Line)
Nezu (●C14 Chiyoda Line)

Hotels around Ueno