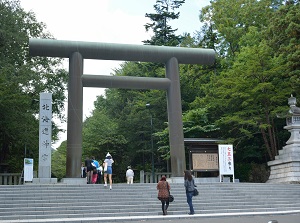 Torii gate of Hokkaido Shrine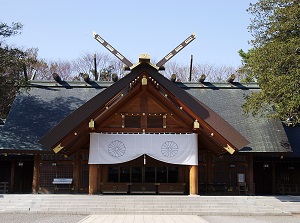 The main shrine
Hokkaido Shrine ("Hokkaido jingû" in Japanese) is a Shinto shrine located about 5 km west of central Sapporo.
It is located just north of Maruyama Park.
In 1869, Emperor Meiji issued the imperial rescript to build a new shrine in Hokkaido.
Then, this shrine was completed in 1871.
Because, Japanese government began to develop Hokkaido at that time.
Therefore, a guardian god was needed in this island.
The Torii gate (main gate) was set up on the northeast side of the shrine.
Because, Russia was advancing to the northeast of Hokkaido through Sakhalin and Kurile Islands.
This shrine was the guardian to defend against Russia.
Now it is the main shrine in Hokkaido, and many worshippers visit here.
(Of course, their worships have nothing to do with the threat of Russia.)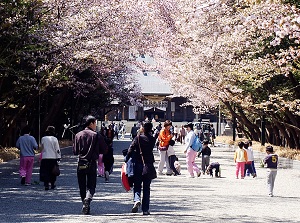 The approach to the main shrine in spring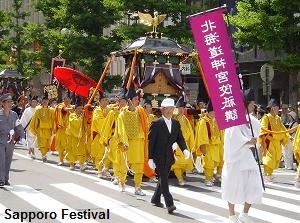 The parade of Sapporo Festival
There are many cherry trees in the precinct of the shrine.
In early May, this shrine is one of good cherry blossom viewing spots in Sapporo.
On June 15th, the festival of this shrine is held every year.
On the next day, a spectacular parade dressed with traditional costumes is held through the Sapporo city.
It is called Sapporo Festival.
How to get here
Get off at Maruyama-koen station of subway Tozai Line.
Then about 1 km walk from there.
Other Tourist Attractions in Sapporo
Central part of Sapporo city
Around Sapporo city