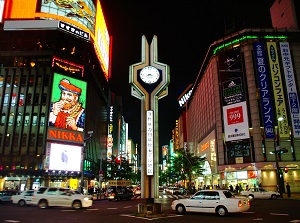 Susukino Intersection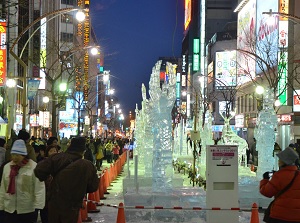 Sapporo Snow Festival in Susukino
Susukino is the downtown in Sapporo, and is the biggest one in northern Japan.
Now there isn't "Susukino" as town name.
"Susukino" means "field of Japanese silver grass", and this area was such place formerly.
Originally it was a red-light district, but it became the district of bars, restaurants, cafes and cinemas since the 1920s.
Then, by holding of Winter Olympic Games in 1972, some department stores and underground mall were built.
So, Susukino has become the big downtown in Sapporo.
Most Japanese people know the name of "Susukino" well as famous downtown in Sapporo.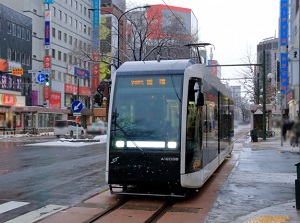 Streetcar runs through Susukino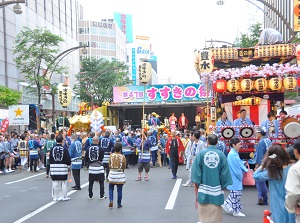 Sapporo Summer Festival in Susukino
There are many shops, restaurants, department stores, and hotels in this area.
When you stay in Sapporo, Susukino is one of the convenient areas.
Sapporo Summer Festival is held in Susukino area.
It is held for 3 days in early August every year, and is one of popular festivals in Hokkaido.
How to get here
Get off at Susukino station of subway.
Hotels in Sapporo
Other Tourist Attractions in Sapporo
Central part of Sapporo city
Around Sapporo city