Odori Park (Ôdôri Kôen) [
大通公園

]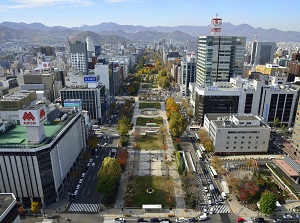 Odori Park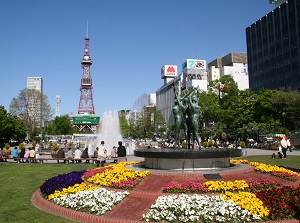 Odori Park in spring
Odori Park is a park located in the center of Sapporo.
In Japanese, the word includes long vowels and it is pronounced as Ôdôri Kôen.
It is about 65 meters wide and 1.5 km long, and is between two streets.
It expands east and west.
A dozen streets cross this long park.
There are many trees, grass fields, flowerbeds, and some monuments and statues are dotted in the park.
There is the Sapporo TV Tower at the eastern end of this park.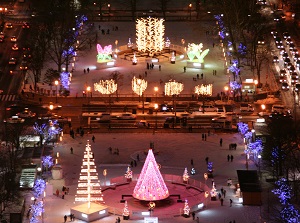 White illumination in Odori Park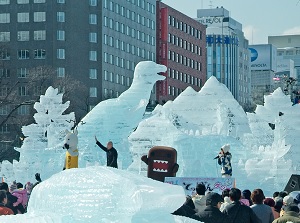 Sapporo Snow Festival
Sapporo Snow Festival in February and Yosakoi-soran Festival in June is held here as a main venue.
From spring to autumn several stalls sell broiled corn, and we find many people eating it while walking.
In summer big beer garden is opened.
In winter the trees are illuminated, and it is called White illumination.
How to get here
Get off at Odori station of subway.
Or, About 1 km walk from JR Sapporo station.
Hotels in Sapporo
Other Tourist Attractions in Sapporo
Central part of Sapporo city
Around Sapporo city