Sapporo clock tower [
札幌市時計台

]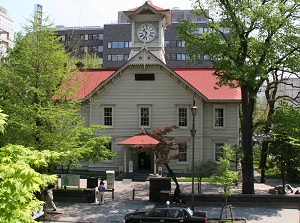 Sapporo Clock Tower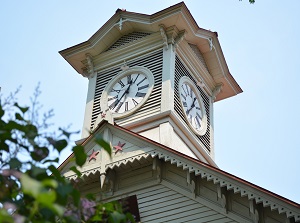 The part of clock
Sapporo Clock Tower is located 0.7 kilometers south of JR Sapporo station and just north of Odori park.
It is the symbol of Sapporo.
It was built as a training gym of Sapporo Agricultural College (current Hokkaido University) in 1878.
It was planned by Professor William Wheeler (1876-1930) who was the assistant principal invited from Massachusetts Agricultural College.
And Japanese engeneers built it.
But the building had no clock tower at that time.
When the opening ceremony, the Hokkaido Developement administrator, Kiyotaka Kuroda, who became the Prime Minister later, made a suggestion to add a clock tower.
Then Prof. Wheeler sent an order to E. Howard Watch & Clock Co. in Boston city, Massachusetts in U.S.
Then, the new clock was installed in 1881.
The clock keeps still moving, and the bell rings every hour.
Now, it is surrounded with many modern buildings.
Therefore, it is said that the tower is one of most disappointing tourist sites.
Because the historic tower is unfitted for this place, Sapporo city thought that it should move to any good place.
But many citizens were against the plan of Sapporo city.
As a result, this tower is preserved in this place.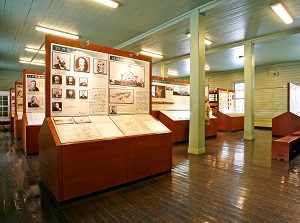 Museum inside the clock tower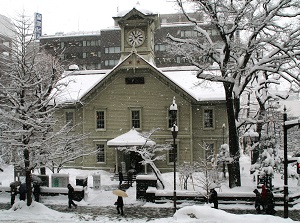 Sapporo Clock Tower in winter
The first floor of the building is a museum, and second floor is a hall like a church.
How to get here
About 0.7 km walk from JR Sapporo station.
Or, about 0.2 km walk from Odori station of subway.
Other Tourist Attractions in Sapporo
Central part of Sapporo city
Around Sapporo city