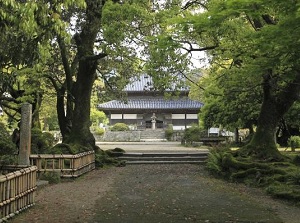 Koudo of Kanzeonji
Photo: Kyushu Tourism Promotion Organization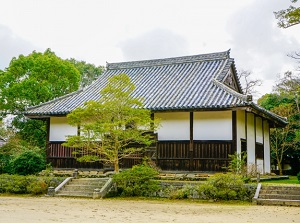 Kondo of Kanzeonji
Kanzeonji is a Buddhist temple of Tendai school.
It is located about 2 km southwest of Dazaifu Tenmangu, and there is the remains of ancient Dazaifu Government Office about 0.8 km west of this temple.
Empress Saimei (594-661) was the mother of Emperor Tenji (626-672).
She came from Nara area which was the capital of Japan and was staying near this area for protection of Kyushu from the war in Korean Peninsula.
But she died in this area in 661.
After Empress Saimei died, Emperor Tenji desired to build a Buddhist temple for her.
It is estimated to have started to built the temple soon, but it is said that the temple was completed in 746, over 80 years after the start of its construction.
As a reason for lengthening of the construction, it is thought that Dazaifu Government Office to the west of the temple had been very busy to deal with internal and external issues erupting one after another.
The temple is Kanzeonji.
The temple was big.
But, by 1630, all original buildings were destroyed by fire or storm.
Main gate, the corridors and many buildings had been lost.
Kondo (金堂) was rebuilt in 1631.
Koudo (講堂) is also called "Hondo" (本堂), and was rebuilt in 1688.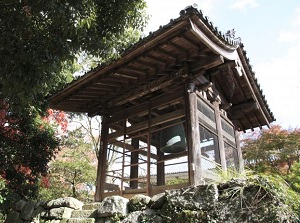 Bell tower with bell made around 698
Photo: Kyushu Tourism Promotion Organization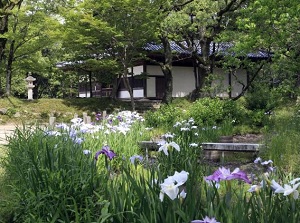 Kanzeonji in early summer
Photo: Kyushu Tourism Promotion Organization
There is a bell tower in the the precinct.
The temple bell (梵鐘) is one of the oldest ones in Japan.
It is estimated to have made with the temple bell in Myoshinji in Kyoto produced in 698. It is designated as a national treasure.
There is Houzou (宝蔵) on the east side of the precinct.
It is a museum built in 1959.
This temple has housed many Buddha statues designated as national important cultural properties.
Most Buddha statues were moved into Houzou, so we can see ober a dozen precious statues closely.
How to get here
By local train of Nishitetsu railway, about 22 minutes from Nishitetsu-Fukuoka (Tenjin) to Tofurou-mae.
Then by community bus "Mahoroba-go", 6 minutes from the station to Kanzeonji-mae stop.
From Dazaifu station near Dazaifu Tenmangu, 13 minutes by community bus "Mahoroba-go".
Other Tourist Attractions in Fukuoka Prefecture