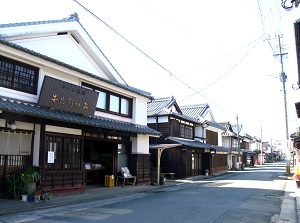 Street in Yame-Fukushima
© Fukuoka Prefecture Tourist Association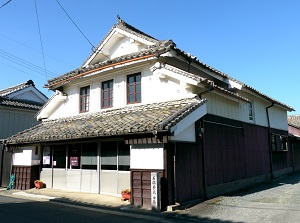 An old house in Yame-Fukushima
© Fukuoka Prefecture Tourist Association
Yame is a small city located about 50 km south of Fukuoka city, and Yanagawa city is located about 15 km west-southwest of this city.
The central area of Yame city has been called Fukushima.
In 1587, Fukushima Castle was built in the center of current Fukushima district.
Then the castle town was formed around the site.
But the control of this city was superseded by Kurume Domain located about 15 km north of this district in 1620, and Fukushima Castle was demolished.
Now, the place where the castle existed is Yame Park.
On the other hand, the castle town continued to develope as an economic center of this region.
In Yame area including Fukushima, various specialty goods were produced.
They are Japanese paper, paper lantern, stone lantern, Buddhist altar, bamboo craft, etc.
Additionally, Yame tea is a popular specialty.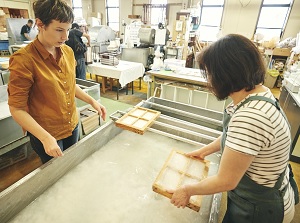 Try to make Japanese paper in Yame
© Fukuoka Prefecture Tourist Association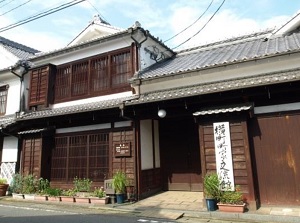 House of 'Machiya' in Yame-Fukushima
Photo: Kyushu Tourism Promotion Organization
Many of the houses in Fukushima district were built in the style of "Machiya".
An earthen floor runs straight like a corridor from the entrance, and some rooms are set up along the earthen floor.
And the fireproof houses were constructed, so they have white clay walls.
These houses were built around the 19th century.
And about 130 houses line along the old streets.
But most of them are still used as workshop or store.
Only a few house had been changed to cafe.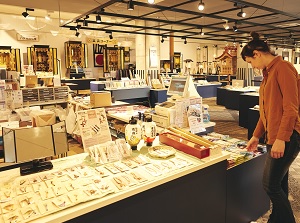 Yame Dento-kogei-kan
© Fukuoka Prefecture Tourist Association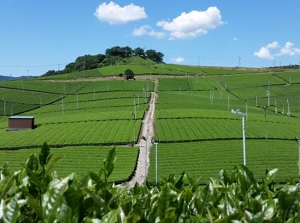 Yame Chuo Tea Garden
Photo: Kyushu Tourism Promotion Organization
There is Yame Tourist Information Center in the south part of Fukushima district.
You can get some information to walk around the old town in the facility.
There is Yame Dentô-kôgei-kan (八女伝統工芸館) near the facility.
It is the facility introducing the traditional crafts of Yame.
We can see the various traditional crafts in the facility.
The old town spreads to the north of the facilities.
The area is between the facilities and Yame Park, and is about 1 km from east to west and about 300 meters from north to south.
We can see many old houses and feel the atmosphere of old times.
In addition, there is a scenic Yame tea fields about 8 km northeast of the central area of Fukushima district.
It is Yame Chuo Tea Garden (八女中央大茶園) and Yame tea trees are cultivated on the wide gently‐sloping hill.
There is an observatory for visitors.
How to get here
From Hakata to Kurume, 17 minutes by Kyushu Shinkansen, about 27 minutes by limited express, 40 to 45 minutes by rapid train of JR Kagoshima Line.
Or, from Nishitetsu-Fukuoka (Tenjin) to Nishitetsu-Kurume, about 30 to 40 minutes by express or limited express.
Then, by route bus for Yame-eigyousho, 47 minutes from JR Kurume station to Fukushima stop.
The bus stops at Nishitetsu-Kurume station, and 35 minutes to Fukushima stop.
Other Tourist Attractions in Fukuoka Prefecture