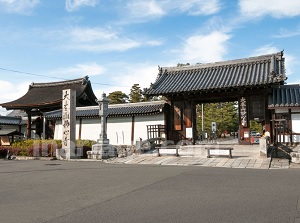 Gates of Myoshinji (Left gate is Chokushimon)
Photo by inariage.com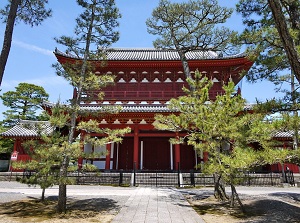 Sanmon in Myoshinji
Photo by Kyoto Free Photo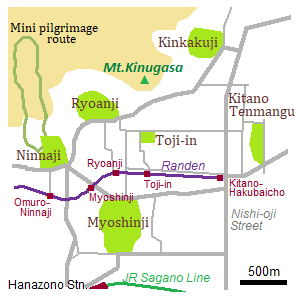 Myoshinji is a temple of Rinzai Zen Buddhism, one of the three Japanese Zen sects.
"O" is the word is pronounced long, so it is read as "Myôshinji".
It is located about 1 km southeast of Ninnaji and about 1.5 km south of Ryoanji temple.
Myoshinji is the central temple of Myoshinji school in Rinzai Zen Buddhism.
More than half of the temples of Rinzai Buddhism are in Myoshinji school, and the number of the temple is about 3,500.
Originally, there was the villa of Emperor Hanazono (1297-1348) in this site.
He was enthroned at the age of 12 as the former Emperor passed away.
And he abdicated the throne to Emperor Go-Daigo at the age of 20 in 1318.
He became a priest in 1335, and he changed the villa to a Zen temple.
The temple was destroyed by fire in the civil war in 1467.
But it was rebuilt, soon after that.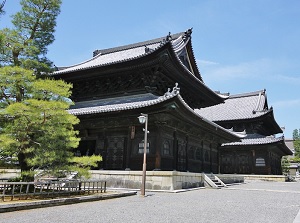 Hattou in Myoshinji
Photo by Kyoto Free Photo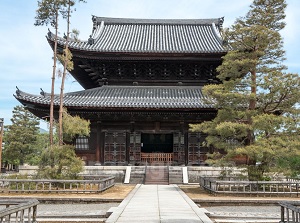 Butsuden in Myoshinji
Photo by inariage.com
Myoshinji has a large site.
It is about 550 meters long from north to south and about 400 meters wide from east to west.
There are the buildings of Myoshinji in the center of the site.
And there are more than 40 small temples built by the disciples of the high priests around Myoshinji.
The site is like a temple town.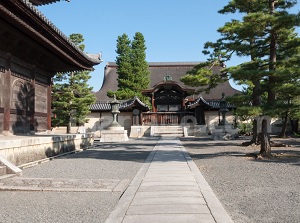 Ohoujou in Myoshinji
Photo by inariage.com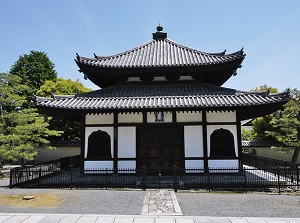 Kyozo in Myoshinji
Photo by Kyoto Free Photo
The entrance gate is on the south side of the site.
There is Chokushimon gate (勅使門, built in 1610) and is usually closed because it is for Emperor family.
Common visitors pass through South gate next to Chokushimon.
From there to the north, there are Sanmon gate (三門, built in 1599), Butsuden temple (仏殿, built in 1827), and Hattou hall (法堂, built in 1656) on a line.
All of them are designated as important cultural properties.
Hattou has the ceiling with the paintings of "Unryûzu" and a temple bell designated as a national treasure.
Unryûzu (雲龍図) was drawn by Kano Tan-yu (1602-1674).
It is a painting of dragon and clouds.
Tan-yu was an outstanding Japanese painter at the time, and he completed the picture spending eight years.
The temple bell is the Japan's oldest one, and the year of 698 is inscribed on the bell as the creation date.
It had been hung on a bell tower in the temple, but it was moved and preserved in Hattou because of aging.
Regrettably, inside of Hattou including Unryuzu and the temple bell is prohibited to take photos.
To the north of Hattou, there is Ôhoujou (大方丈).
It is the main temple, and we can see the Buddha statues of this temple, wall and sliding screen paintings by the painters of Kano school, Japanese garden, etc.
We can see them by guided tour held every 20 minutes.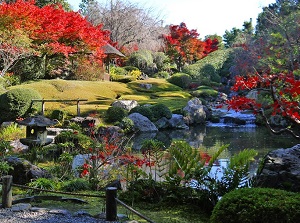 Japanese garden in Taizou-in
Photo by Kyoto Free Photo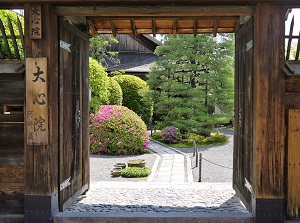 Entrance of Daishin-ini
Photo by Kyoto Free Photo
In other over 40 temples, we can visit only three temples normally.
They are Taizou-in (退蔵院, near Sanmon), Daishin-in (大心院, near Ôhoujou) and Keishun-in (桂春院, around northeast edge of Myoshinji).
These temples have beautiful Japanese gardens.
How to get here
By Randen tram (Kitano Line of Keifuku Electric Railway), about 4 minutes from Kitano-Hakubaicho to Myoshinji.
Then about 8 minutes walk from there.
Or, by JR San-in Line. about 12 minutes from Kyoto to Hanazono.
Then about 6 minutes walk from there.
Other Tourist Attractions in Kyoto Prefecture