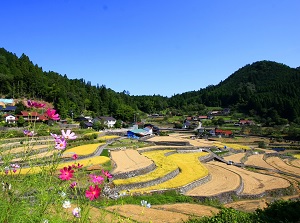 Photo : Hiroshima Prefectural Tourism Federation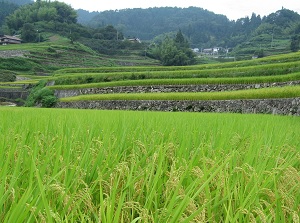 Photo : Hiroshima Prefectural Tourism Federation
Ini rice terrace ("Ini no Tanada" in Japanese) is one of the scenic rice terraces in Hiroshima Prefecture.
It is in Ini district in Aki-Ota city and is located about 45 km northwest of the center of Hiroshima city.
The district is in a small basin located 500 to 550 meters above sea level, and is surrounded by steep mountains.
324 small rice fields are arranged in a staircase pattern.
The total size is about 7.9 hectares in area.
It is assumed that the rice terrace was constructed around the 14th century.
And it is assumed that the stone walls of granite were constructed in the late 16th century.
It is thought that the constructors had the technology to build the stone wall of castle.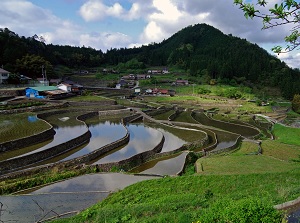 Photo : Hiroshima Prefectural Tourism Federation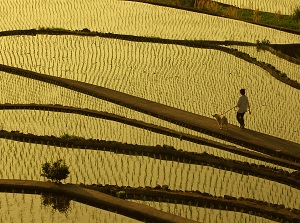 Photo : Hiroshima Prefectural Tourism Federation
According to a record, the current scenery of rice terrace had been completed by 1638.
Since 1998, the village has promoted the activities of preservation of this rice terrace.
It is opened to the public as the place to learn traditional rice harvest.
So, the events to experience the rice-planting in early June and the harvesting in early October are held.
There are an observatory, a museum and a cafe around the rice terrace.
How to get here
By streetcar with route No. 1, 2 or 6, about 12 minutes from Hiroshima station to Kamiyacho-higashi stop.
Near the stop, there is Hiroshima Bus Center, and get on the express bus for Sandankyo.
Then get off at Togouchi-IC Bus Center stop.
From the bus stop to Ini, the distance is about 3 km.
Because of mounrain road, it is good to use a taxi.
Hotels around Aki-Ota city
Other Tourist Attractions in Hiroshima Prefecture