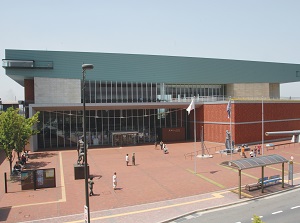 Yamato Museum
Photo : Hiroshima Prefectural Tourism Federation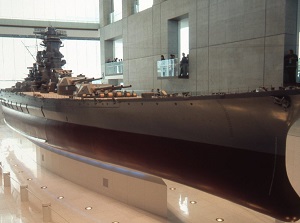 Model of Battleship Yamato
Photo by Railstation.net
Yamato Museum is a museum introducing the manufacturing of ship in Kure city.
Kure city (呉) is located about 25 km south of Hiroshima city and this museum is near Kure Port.
"Yamato" means old Nara, and also means "old Japan" in general.
But "Yamato" in the name of this museum means Battleship Yamato.
Around 1897, one of the Navy Arsenals in Japan was established in Kure city, then it became the largest of its kind in the Orient.
Especially, Battleship Yamato launched by Kure Navy Arsenal in 1940 was the world's largest and strongest ship with a displacement of around 70,000 tons at that time.
In 1941, the U.S-Japan war started with the Attack on Pearl Harbor.
During the war, Battleship Yamato made a sortie a few times.
In the final phase of the war, Battleship Yamato was attacked by a lot of U.S. bombers at the point of about 200 km southwest of Kyushu Island, on April 7, 1945.
The strong battleship exploded inside, then sank slowly with over 3,000 crew members.
Many Japanese people know such battleship and its tragic death.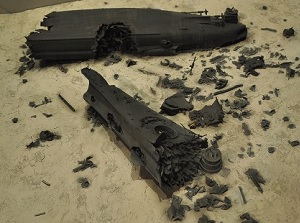 Model of sunken Yamato in the sea
Photo by Railstation.net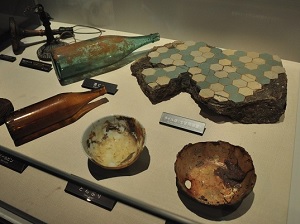 Salvaged things around Yamato
Photo by Railstation.net
In 1985, the sunken Battleship Yamato was explored using underwater research vessel and the body was confirmed for the first time.
Many things relating to the crew were salvaged from the bottom of the sea at a depth of 345 meters.
This museum displays a lot of materials about Battleship Yamato and the Navy Arsenal in Kure.
We can see a one-tenth scale model of Battleship Yamato in this museum.
But the size of real battleship is 263 meters in length, so even the model is 26 meters long.
And some salvaged things are also displayed.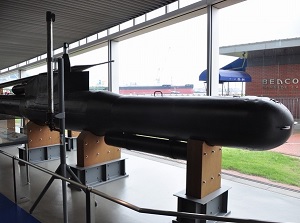 Human torpedo in Yamato Museum
Photo by Railstation.net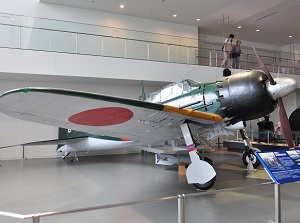 Zero fighter plane in Yamato Museum
Photo by Railstation.net
In addition, we can see the small submarine, human torpedo, fighter plane "Zero", etc. produced in Kure.
Tetsu-no-Kujira Kan museum (
鉄のくじら館

)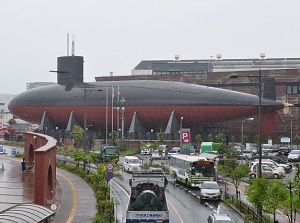 Tetsu-no-Kujira Kan
Photo by Railstation.net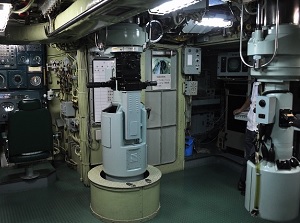 Inside of submarine Akishio
Photo by Railstation.net
Tetsu-no-Kujira Kan is near Yamato Museum.
It introduces the history and equipments of the Japan Maritime Self Defence Force.
"Tetsu-no-Kujira" means "Iron whale".
A real submarine "Akishio" decommissioned in 2004 is exhibited in front of the building.
It looks like "an iron whale".
How to get here
By JR Kure Line, from Hiroshima to Kure, about 35 minutes by rapid train, about 50 minutes by local train.
Then, about 450 meters walk.
Hotels around Kure city
Other Tourist Attractions in Hiroshima Prefecture