Abuto-kannon temple [
阿伏兎観音

]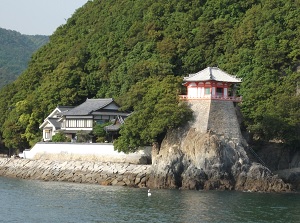 Abuto-kannon (Bandaiji)
Photo : Hiroshima Prefectural Tourism Federation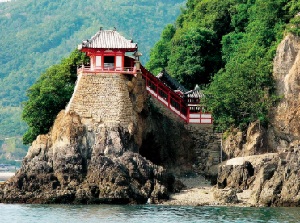 Kannon-do of Abuto-kannon
Photo by Fukuyama Convention &
Visitors Association
Abuto-kannon is a temple of Rinzai Zen Buddhism, one of the three Japanese Zen sects, and an eleven-faced Kannon statue is enshrined.
The temple is Bandaiji (磐台寺) formally.
Because it is on the tip of Abuto Cape, it is called as "Abuto-kannon".
It is located about 5 km west of Tomonoura.
This temple was established to pray for the safety of a voyage by Emperor Kazan in 992.
In the 12th century, the temple fell into ruin.
Fukuyama Clan restored the temple in 1570, then the temple was expanded in 1667.
The main temple is located by the sea, and Kannon-do (観音堂) is on a rock at the top of the cape.
To Kannon-do, a corridor with steps is connected.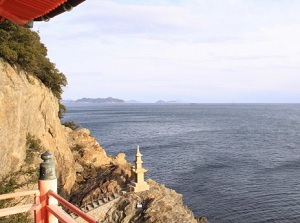 View from Abuto-kannon
Photo : Hiroshima Prefectural Tourism Federation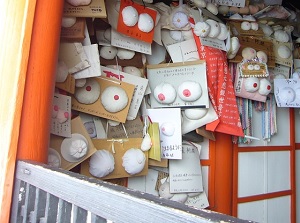 Dedicated Emas of breasts in Kannon-do
Photo by Fukuyama Convention &
Visitors Association
When you enter Kannondo, you must take off your shoes.
A narrow wooden terrace surrounds around the temple and the sea and rocks are just below the terrace.
In addition, the terrace is inclined outward slightly, so you may be thrilled.
Despite of thrilling temple, Abuto-kannon is also worshipped as gods of pregnancy and smooth delivery.
So, the visitors who want to have child can dedicate unique Ema (a votive horse tablet) with breasts.
How to get here
By route bus, about 30 minutes from Fukuyama station of San-yo Shinkansen.
Hotels around Fukuyama city
Other Tourist Attractions in Hiroshima Prefecture