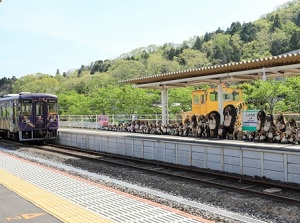 Racoon dog statues on Shigaraki station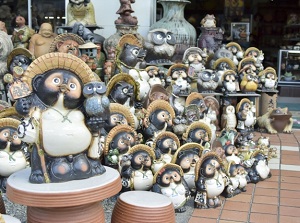 Shop in Shigaraki
Shigaraki is a town located in the south part of Shiga Prefecture, and is about 15 km west-southwest of Koka Ninja Village.
Shigaraki is famous for its ceramic kilns since ancient times, and the ceramic works are called Shigaraki-yaki (Shigaraki ware).
This area is on the way between Nara, Kyoto and Tokai region, and produces good potter's clay.
Around the 13th century, the technique of Tokoname-yaki was introduced.
(Tokoname is also a famous town of ceramic kilns in Aichi Prefecture.)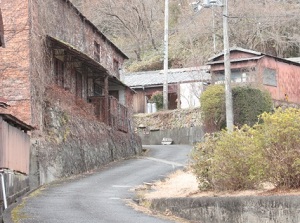 The area of potteries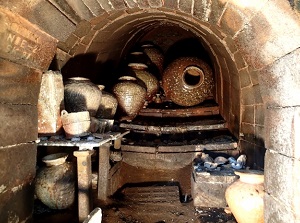 Shigaraki-yaki in a kiln
Tea ceremony had developed in Kyoto since the 15th century, so tea utensils were produced in Shigaraki.
From the 17th century, various ceramics for everyday use were produced.
When Emperor Showa visited Shigaraki in 1951, a lot of raccoon dogs of Shigaraki-yaki were put along the routes to express the welcome.
Later, Emperor Showa composed a poem of impression of viewing them.
By the news, raccoon dog of Shigaraki-yaki has became well-known throughout Japan.
Now, it is the symbol of Shigaraki-yaki.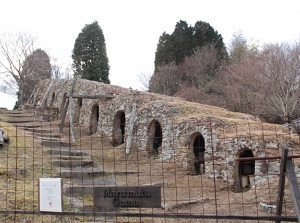 Climbing kiln in Shigaraki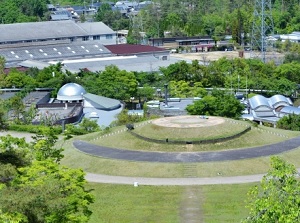 Shigaraki Ceramic Cultural Park
Shigaraki Kohgen Railway leads to the central area of Shigaraki.
The area of the potteries is about 0.5 km to 1.5 km west of Shigaraki station.
More than 20 potteries are dotted in the area.
Most potteries have own gallery and shop, and some of them have a cafe.
But an advance reservation is required in order to see the workshop.
There is Tougei no Mori (陶芸の森, Shigaraki Ceramic Cultural Park) about 1.5 km north of Shigaraki station.
It is a park for Shigaraki-yaki.
There are an art museum, an outdoor museum, an industrial museum, etc. in the park.
Also, there is a cafe and restaurant.
How to get here
By rapid train of JR Biwako Line, to Kusatsu, 20 minutes from Kyoto, 55 minutes from Maibara.
Then, change to the train of Kusatsu Line.
About 24 minutes to Kibukawa.
From Kibukawa, 24 mimutes to Shigaraki by Shigaraki Kohgen Railway.
It is operated once an hour.
Other Tourist Attractions in Shiga Prefecture