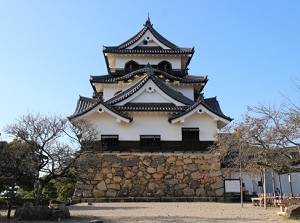 Hikone Castle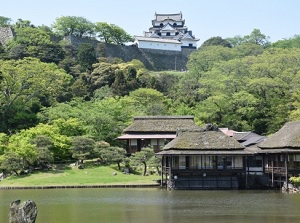 Genkyu-en garden in Hikone Castle
Hikone Castle is a castle in Hikone city at the east side of Lake Biwa.
It is located about 1 km west of JR Hikone station.
And, the shore of Lake Biwa is just west of the castle.
The castle was built by Ii Clan, the lord of this region, in 1622.
A building was repaired on a large scale in 1854, then the style had been changed.
But the castle tower and the other buildings have kept their original figures.
After the end of feudal Edo Period in 1868, many castles in Japan had been demolished.
But, when Emperor Meiji visited Hikone in 1878, he ordered to preserve this castle.
Therefore, we can see the original castle now, fortunately.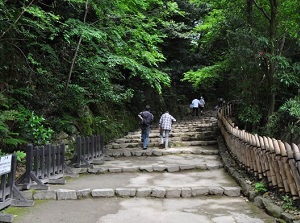 Approach to castle tower in Hikone Castle
Photo by Railstation.net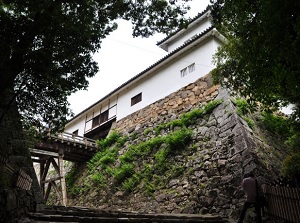 Tenbin-Yagura in Hikone Castle
Photo by Railstation.net
The site is shaped nearly rectangle about 900 meters from east to west and about 750 meters from north to south.
A moat surrounds the site and has a canal to Lake Biwa.
And the main part of the castle are surrounded with another moat in the side.
There is the main castle tower (天守, Tenshu) in the center of the site.
It is a three-story building and the height is about 21 meters including the stone wall about 4.5 meters high.
The main castle tower and the attached buildings are designated as national treasures.
To go to the castle tower, visitors pass two gates, Tenbin-Yagura (天秤櫓) and Taikomon-Yagura (太鼓門櫓).
These are designated as important cultural properties.
Hikone Castle was built as a fort.
So, deep moat without water is set up in front of the first Tenbin-Yagura and all visitors to the castle must pass the moat.
Invaded enemies were intercepted there by the attack from Tenbin-Yagura.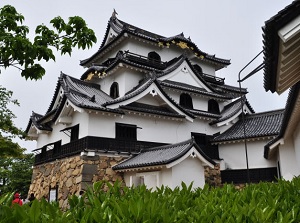 Approach to castle tower in Hikone Castle
Photo by Railstation.net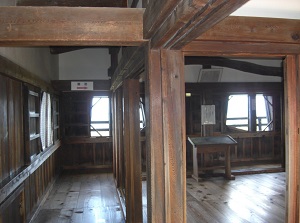 Inside of Hikone Castle
Additionally, there are a museum about this castle and a few Japanese gardens.
The main Japanese garden is Genkyu-en (玄宮園) constructed in 1677.
In the garden, there is a guest house Hôshôdai (鳳翔台).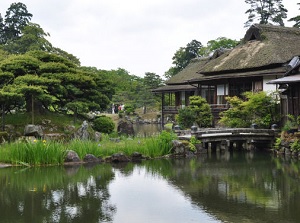 Genkyu-en in Hikone Castle
Photo by Railstation.net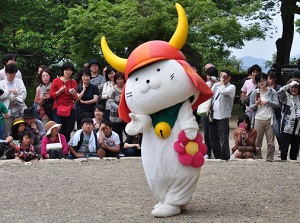 Hikonyan in Hikone Castle
Photo by Railstation.net
From near Genkyu-en, a boat tour cruising the moat is operated.
By the way, there is a popular mascot Hikonyan in Hikone Castle.
He appears somewhere in the castle a few times a day.
How to get here
By rapid train of JR Biwako Line, to Hikone, 50 to 65 minutes from Kyoto, about 6 minutes from Maibara.
(Maibara is the station of Tokaido Shinkansen between Nagoya and Kyoto.)
Then, on foot, it takes about 15 minutes to the castle.
Hotels around Hikone Castle
Other Tourist Attractions in Shiga Prefecture