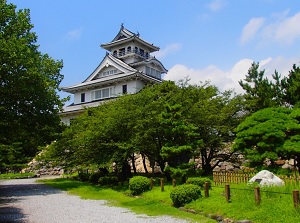 Nagahama Castle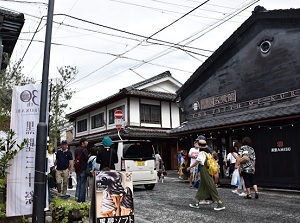 Old town in Nagahama
Photo by Railstation.net
Nagahama is a city located on the north side of Lake Biwa.
The central area is by the northeast shore of Lake Biwa.
It is located about 10 km north of Hikone and 70 km northeast of Kyoto.
Originally, Azai Family had been governed in this area.
But, in 1573, they were destroyed by Hashiba Hideyoshi who was a good retainer of Oda Nobunaga.
As a reward, Nobunaga gave this territory to Hideyoshi.
Hideyoshi built Nagahama Castle by Lake Biwa and constructed a town.
And many merchants were gathered in the towm, so Nagahama became a commercial town.
They were also "Oumi-merchants".
(After the death of Nobunaga, he unified Japan in 1591 and took the name "Toyotomi Hideyoshi".)
In 1872, a big fire hit the central area, and many old houses had lost.
After that, some Western-style buildings were built in the area.
So, we can see the old town with the buildings in various periods in Nagahama.
In addition, from Nagahama, the ship to Chikubushima island is operated.
Please see this page.
Nagahama Castle (
長浜城

)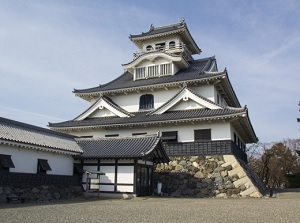 Nagahama Castle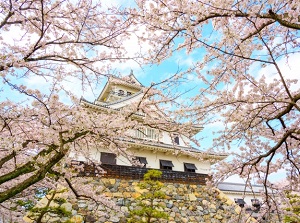 Nagahama Castle in spring
Nagahama Castle is located about 300 meters west of JR Nagahama station and is near Lake Biwa.
As above, the castle was built by Hashiba Hideyoshi in 1573.
But, after the foundation of Edo Government, the castle was demolished in 1615.
Many of the building materials of the castle were used for the construction of Hikone Castle.
Current castle was built as the historical museum of Nagahama in 1983.
Because the original shape of the castle is unknown, this castle was built by modeling Inuyama Castle in Aichi Prefecture and Fushimi Castle in Kyoto.
Old town in Nagahama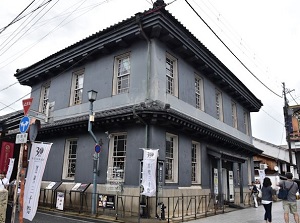 Kurokabe Garasu-kan in Nagahama
Photo by Railstation.net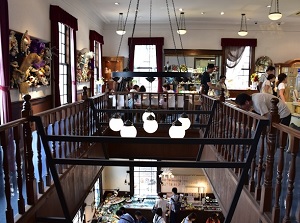 Inside of Kurokabe Garasu-kan
Photo by Railstation.net
A street runs from north to south about 200 meters east of JR Nagahama station.
It is called "Hokkoku-Kaido" and had been a main road connection Kyoto, Osaka and Hokuriku Region (Fukui, Kanazawa, Toyama, and Niigata).
The old buildings are in the area along the road, and the central area is called Kurokabe Square (黒壁スクエア).
Over 30 old buildings are reused as shop, museums, restaurant and cafe.
Kurakebe Glass Shop (Kurokabe Garasu-kan) is the central building, and is a shop selling glassware in Japan and the world.
The building had been used a bank, and was built in 1900.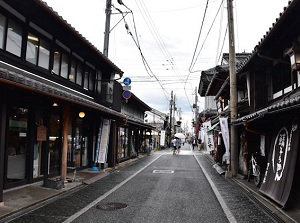 Old town in Nagahama
Photo by Railstation.net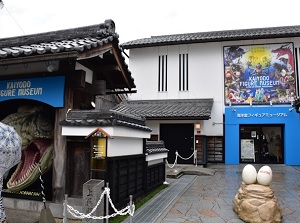 Kaiyodo Figure Museum in Nagahama
Photo by Railstation.net
To the south, there is Kaiyodo Figure Museum.
Kaiyodo is the world's leading company manufacturing figurines and garage kits.
This is a unique museum that you can see a lot of exquisite works.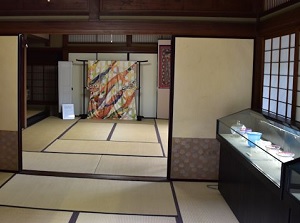 Inside of Ando Residence
Photo by Railstation.net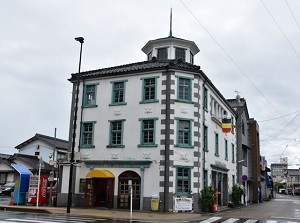 Kaichi School in Nagahama
Photo by Railstation.net
Ando Residence (安藤家) is near Kaiyodo Figure Museum.
Ando Family had lived in Nagahama since the 15th century, and became Oumi-merchants in the 19th century.
The Japanese-style residence was built in 1905, and has been opened to the public since 2012.
Kaichi School (Kyu Kaichi-gakko) is also an Western-style building.
It was an elementary school built in 1874.
Daitsuji temple (
大通寺

)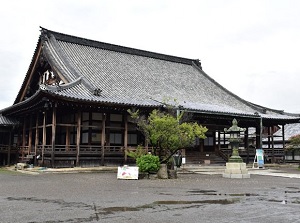 Main hall of Daitsuji in Nagahama
Photo by Railstation.net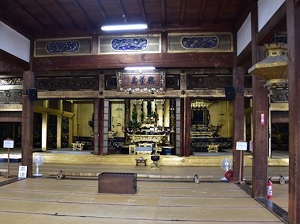 Inside of Main hall of Daitsuji
Photo by Railstation.net
Daitsuji is a Buddhist temple located about 0.6 km northeast of the old town.
It was founded in the ruin of Nagahama Castle in 1602, and was moved to this place in 1652.
The current main temple is the original and some parts from Fushimi Castle in Kyoto are used as the material.
In this temple, most buildings and some pictures in the rooms are designated as important cultural properties.
How to get here
By rapid train of JR Biwako Line, to Nagahama, 1 hour and 10 minutes from Kyoto, about 10 minutes from Maibara.
Hotels around Nagahama city
Other Tourist Attractions in Shiga Prefecture