Ishiyamadera temple [
石山寺

]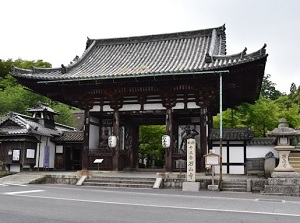 Todaimon of Ishiyamadera
Photo by Railstation.net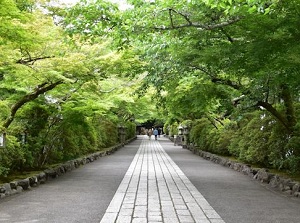 Approach to main temple
Photo by Railstation.net
Ishiyamadera is a Buddhist temple of Shingon school which is one of major Buddhism.
It is located about 7 km southeast of Otsu station.
It is by Seta River flowing out from Lake Biwa, and is about 2 km from the south edge of Lake Biwa.
"Ishiyama" means "mountain of stone".
Literally, this temple is on the huge rock bed of wollastonite.
It had been formed by mixing limestone and granite in high temperature magma, and it is unusual in the world that wollastonite is exposed on a ground.
So, the rock bed is designated as a national natural treasure.
Ishiyamadera was founded by high priest Rouben in 747.
He built the original temple on the rock bed according to a divine prophecy in his dream.
Then, The other building were built in 761, and this temple became wide.
Since that, many illustrious priest had served as head of this temple.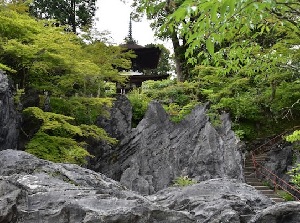 Rock bed of Ishiyamadera
Photo by Railstation.net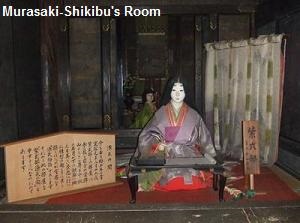 This temple is known as the place where Murasaki-Shikibu got the idea of the story of Tale of Genji in 1004.
Murasaki-Shikibu (970s?-1010s?) was a woman novelist, and Tale of Genji is the her main work.
Tale of Genji is the Japan's first (or the world's first) full-length novel.
It is the long story about the complicated lives of noble people in the Imperial Court around the 10th century in Japan.
The novel has an attractive story line, skillful psychological descriptions, and the artistic writing style.
So it is considered the greatest works in the history of Japanese literature.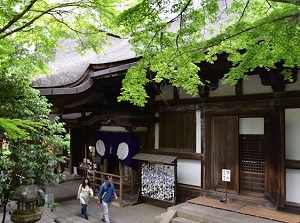 Hondo of Ishiyamadera
Photo by Railstation.net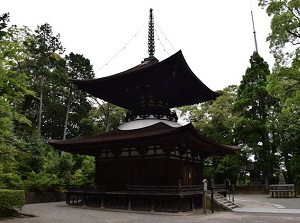 Tahoto
Photo by Railstation.net
The site is about 400 meters from east to west and about 200 meters from north to south.
In the temple grounds, there are many buildings and exposed wollastonite rocks are seen at several places.
Main gate Todaimon (東大門) is on the east side of the precinct and is near the riverside of Seta River.
It was built in 1190 but it is said that major repair work was carried out in the early 17th century.
There is Hondo (本堂, Main hall) in the center of the precinct.
The original temple was built in the 8th century, and was rebuilt in 1096.
It is designated as national treasures.
And in Hondo, there is "Genji-no-Ma" room.
It is said that Murasaki-Shikibu was writing the novel in the place.
The doll of the working novelist is set up.
Tahôtô (多宝塔) is a two-story pagoda, and was built in 1194.
It is also designated as national treasures.
[In Ishiyamadera, it is allowed to take photos of limited places.
But, we need permission to disclose the images.]
How to get here
By Keihan Railway, get off at Ishiyamadera terminal station.
To get on this train, we can also change to this line at Ishiyama station of JR Biwako Line.
Then about 10 minutes walk (about 700 meters) from there.
Hotels in Otsu city
Other Tourist Attractions in Shiga Prefecture