Wazuka tea plantations [
和束の茶畑

]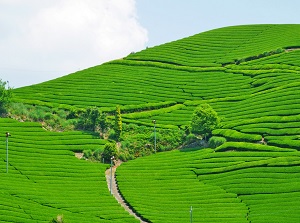 Ishitera tea plantation in Wazuka town
Photo by Kyoto Free Photo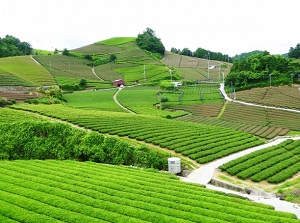 Tea plantation in Wazuka town
Wazuka (和束) is a town in a valley formed by Wazuka River.
It is a main producer of green tea.
Uji city is located about 15 km northwest of this town, so the production of the green tea is called Uji tea.
The beautiful scenery of Uji tea plantations is popular.
In the late 12th century, priest Eisai (1141-1215), the founder of Rinzai Zen Buddhism, brought back the seeds of tea from Sung (current China).
The seeds were sowed in the field of Kozanji temple, so that was the first time of production of tea in Japan.
After that, tea was introduced into Wazuka.
But the period that the production of tea became an industry of Wazuka was in the middle of the 18th century.
Wazuka town is hilly and Wazuka River flows through the town.
Large swings between daytime and nighttime temperatures and fog from the river grow the good tea leaves.
And Wazuka became the largest producer of Uji tea in the early 20th century.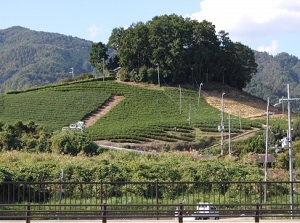 Royal Tomb of Prince Asaka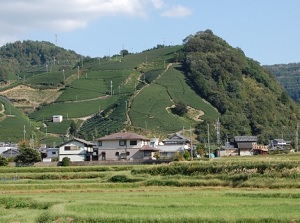 Kamatsuka tea plantation
The area of about 5 km along Wazuka River is the attractive part.
There are many tea plantations everywhere.
Especially, the following plantations are attractive and popular.
Ishitera tea plantation (石寺の茶畑) is around the downstream area of Wazuka River.
(It is about 0.8 km north of Wazuka-Takahashi bus stop.)
Whole hills are covered with tea plantation and small houses and the other trees are dotted.
The scenery is often used as tourist photographs.
Erihara tea plantation (撰原の茶畑) is to the east of Ishitera tea plantation.
There is the plantation like patchwork on the steep mountainside.
Kamatsuka tea plantation (釜塚の茶畑) is near the center of the town.
The mountain covered with tea plantation is seen behind the houses and rice fields.
Harayama tea plantation (原山の茶畑) is at the northeast edge of the area.
There is a round plantation.
And Royal Tomb of Prince Asaka (安積親王陵墓, Asaka-Shinno Ryobo) is an small ancient tomb on the hill of rea plantation.
Prince Asaka (728-744) was the second son of Emperor Shomu, but he died suddenly at the age of 17.
Some say that he was killed with poison.
It is a unique sacred spot in Wazauka.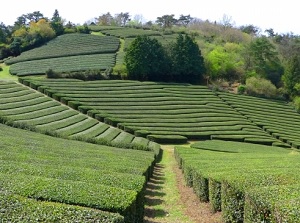 Tea plantation in Wazuka town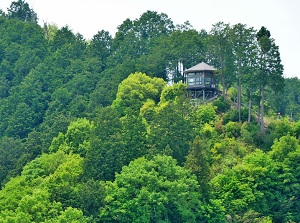 Tenku cafe in Wazuka town
Photo by Kyoto Free Photo
In the center of the town, there are some cafes and shops.
You can drink and buy Uji tea, and eat the sweets using Uji tea.
The central cafe is Wazuka-Cha Cafe managed by the tea farmers.
And you can reserve the observatory cafe Tenkû Cafe there.
It is on a hill, and you can enjoy the secenery of Wazuka and taste Uji tea in a small observatory house.
How to get here
The nearest station is Kamo of JR Yamatoji Line.
About 50 to 60 minutes from Tennoji in Osaka city.
From Kyoto to Kizu, about 50 to 70 minutes by JR Nara Line, then 6 minutes from Kizu to Kamo by JR Yamatoji Line.
From Kamo station, by route bus, 8 minutes to Wazuka-Takahashi, 15 minutes to Wazuka-kawara (the central area of Wazuka), 20 minutes to Harayama.
(The bus is operated once an hour.)
Other Tourist Attractions in Kyoto Prefecture