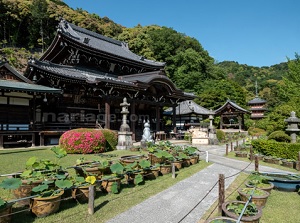 Mimurotoji
Photo by inariage.com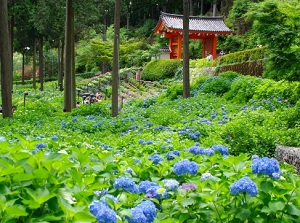 Japanese hydrangeas in Mimurotoji
Mimurotoji is a Buddhist temple of a sect of "Shugendo" which is Japanese mountain asceticism-shamanism incorporating Shinto and Buddhist concepts.
It is on the mountainside in Uji city.
It is located about 2 km northeast of Byodo-in and JR Uji station.
It is said that this temple was founded by the order of the Emperor Konin in 770.
Emperor Konin had seen a golden light from inside of Imperial Palace every night.
So he ordered an official to find out what emitted the light.
The official walked toward the light and arrived at the upstream of a small river.
He saw Senju-Kannon Bosatsu Buddha emitting light in the river.
He dived into a river and lifted Buddha, but only a statue of Buddha was in his arms.
So, Emperor Konin ordered to build a temple there and enshrine the statue.
It is current Mimurotoji.
Later, Emperor Kanmu, a son of Emperor Konin, created a statue of big Buddha statue and the sacred statue was housed in the body of the new statue.
In the 1460s, this temple was destroyed by fire.
It is said that the statue by Emperor Kanmu was burnt out but the sacred statue was safe.
The sacred statue is not open to the public now.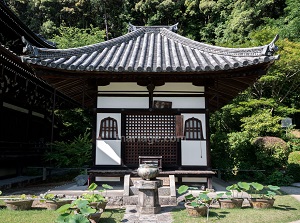 Amidado of Mimurotoji
Photo by inariage.com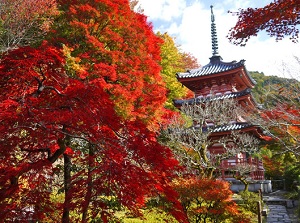 Three-storied pagoda of Mimurotoji in autumn
Photo by Kyoto Free Photo
In the precinct, there are Hondou (本堂, Main hall) enshrining the sacred statue and rebuilt in 1814, Three-storied pagoda (三重塔) built in 1704, and a few buildings.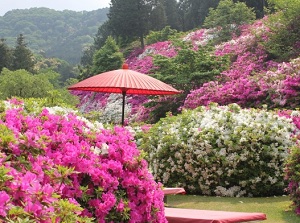 Azaleas in Mimurotoji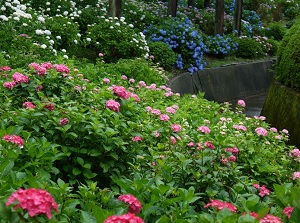 Japanese hydrangeas in Mimurotoji
Photo by Kyoto Free Photo
Mimurotoji is famous as temple of flowers.
Along the approach to Hondou, there are flower gardens and Japanese garden.
Cherry blossoms in early April, azaleas and rhododendrons from lare April to early May, Japanese hydrangeas from June to early July, lotus flowers from July to early August are beautiful.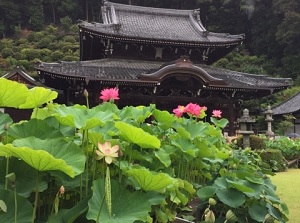 Lotus flowers in Mimurotoji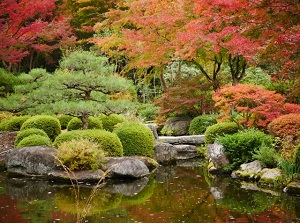 Japanese garden of Mimurotoji in autumn
And, we can see colored leaves from late November to early December.
How to get here
The nearest station is Mimurodo of Keihan Railway.
About 1 km walk from there.
Or, get off at Uji station of JR Nara Line.
About 2 km walk from there.
Other Tourist Attractions in Kyoto Prefecture