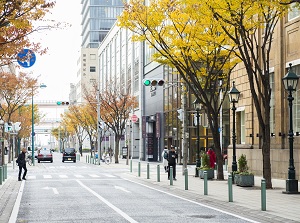 A street in Kyu-kyoryuchi
© KOBE TOURISM BUREAU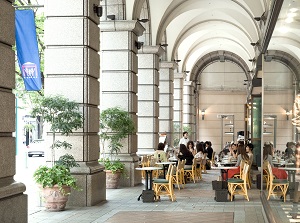 A cafe in Kyu-kyoryuchi
© KOBE TOURISM BUREAU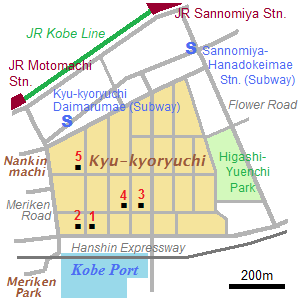 Kyu-kyoryuchi means "Former Foreign Settlement" in English.
When Kobe Port was opened as an international port in 1868 after long national isolation, the foreign settlement was constructed.
It was the area facing Kobe Port on the south side of current JR Line.
The east end was current the street "Flower Road" and the west end was the street "Meriken Road".
It is about 700 meters from east to west and about 400 to 600 meters from north to south.
Now this district is one of the central areas in Kobe, and has many office buildings.
This settlement was designed by British civil engineers, and 126 blocks in the district were sold for Western foreigners at auction until 1873.
This settlement was the section of exterritoriality.
Chinese people who came from China in the same time were not allowed to live in this settlement.
So they made a chinatown out of the settlement, and it was Nankinmachi.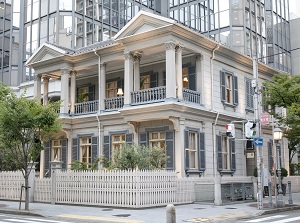 Former US Consulate General
© KOBE TOURISM BUREAU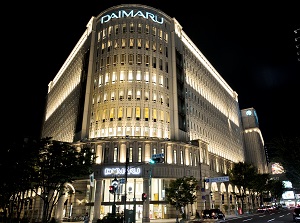 Daimaru Department Store
© KOBE TOURISM BUREAU
The Western foreigners built many office buildings immediately, and they had done business in Japan.
The Japanese government concluded treaties of commerce with the western countries, then this settlement was returned back to Japan in 1899.
After that, Japanese businessmen also used this district and this area became the central business district in Kobe.
But after the beginning of World War II, most of the foreigners had returned back to their countries.
In 1945, about 70 percents of the buildings in this settlement were destroyed by US air raids.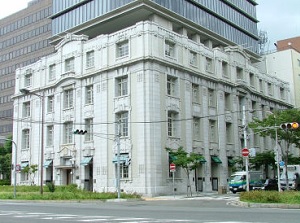 Kaigan Building
Photo by Railstation.net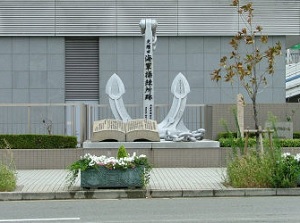 Monument for Samurai Navy
Photo by Railstation.net
After the war, modern buildings had been built.
The remaining original buildings had gotten older.
But Kobe city decided to preserve these buildings as cultural properties.
So, "Kyu-Kyoryuchi" became a historic area in Kobe.
In January 1995, the Great Hanshin-Awaji Earthquake struck Kobe.
Many historic buildings had been destroyed.
Until the early 2000s, some buildings has been restored by Kobe city.
Main old buildings are the following.
The position is in above map.
And the number of the buiding is the original block number of the settlement.
Shosen-Mitsui Building (#5, 1922)
Kaigan Building (#3, 1918)
Kobe City Museum (#13, 1935)
Former US Consulate General (#15, 1881)
Daimaru Department Store (#38, 1929)
When we walk around this district, we feel the atmosphare of old Europern town.
Sophistcated cafes and shops are dotted in this district.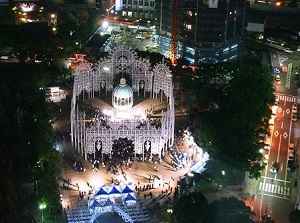 Kobe Luminarie in Kyu-kyoryuchi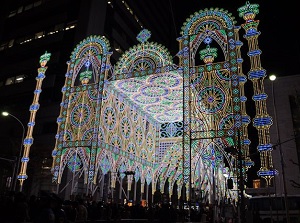 Kobe Luminarie
Photo by Railstation.net
In addition, Kobe Luminarie is held to commemorate the victims of Great Hanshin-Awaji Earthquake and to hope the restoration in Kyu-kyoryuchi in early December every year.
Illuminated gates and arches create a spectacular corridor of light along some streets.
How to get here
About some minutes from Sannomiya or Motomachi stations of JR, Hankyu, and Hanshin Lines.
And near Sannomiya-Hanadokeimae or Kyukyoryuchi-Daimarumae stations of subway Kaigan Line.
Other Tourist Attractions in Hyogo Prefecture
Kobe city
Other areas in Hyogo Prefecture