Obihiro Ban'ei Horse Racing [
帯広ばんえい競馬

]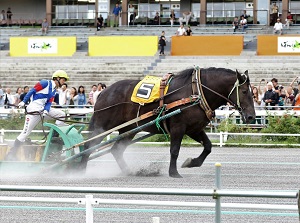 In a race
Photo by Obihiro city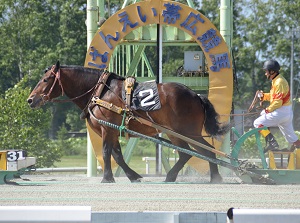 The goal of a race
Photo by Obihiro city
There is Obihiro Racecourse about 1.8 km west of JR Obihiro station.
Of course, horse racing is held there.
But, only Ban'ei racing is held in this racecourse.
It is the world's only horse race.
Draft horses pull heavy iron sleds on the course of 200 meters.
Jockeys urge on the horse balancing on the sleds.
The weight of the sled is between 480 kg and 1000 kg.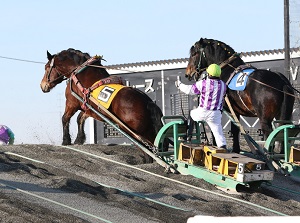 Horses climb a hard hill
Photo by Obihiro city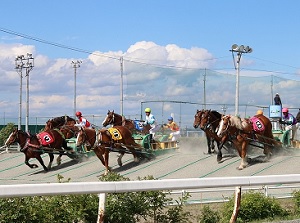 Horses go down a hill
Photo by Obihiro city
On the way, there are two hills.
These are the hard points for horses and jockeys.
The powerful horse which gets over the hills easily wins the race.
It takes about 2 to 4 minutes for a race.
The races are basically held on Saturday, Sunday and Monday in all monthes.
The first race of the day is held around 14:30 and at most 11 races are held until the evening.
Obihiro Ban'ei Horse Racing is a formal racing hosted by National Association of Racing of Japan.
So, you can buy the betting ticket and enjoy the races at ease.
Tokachimura (
とかちむら

)

Tokachimura is a commercial facility in Obihiro Racecourse.

There are some souvenir shops and restaurants.
You can get some popular sweets of Obihiro and eat "butadon", a specialty of Obihiro.
How to get here
By route bus, get off at "Keibajo" stop.
About 9 minutes from Obishiro station.
Hotels in Obihiro
Other Tourist Attractions in Obihiro