Sakura (Cherry blossom) in Japan
Cherry blossom in the life of Japanese people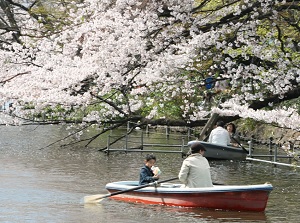 When winter ends and cherry blossoms come into bloom, Japanese people realize that spring has come.
In Japan, the new school term starts in April.
And student who graduated from a school in March enters a higher school in April.
The government offices and most companies also start in the new fiscal year in April.
And, new employees just after graduating from school begin work.
It is not an exaggeration to say that Japanese society starts from April.
Around the time, the cherry blossoms come out in most areas in Japan.
Cherry blossom is a symbol of start of new life for many Japanese people.
But cherry blossoms burst into bloom, then fall within some days.
They break the feeling of celebration early, and lead the people to return to their everyday life.
After the period of cherry blossom, Japanese people forget entirely about cherry blossom.
But at the end of the next winter, all Japanese are eagerly waiting for cherry blossom season again.
Japanese Sakura is a unique cultivar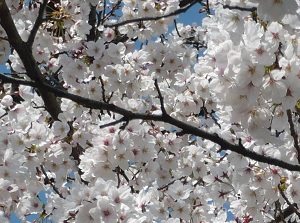 In fact, cherry tree is distributed around the temperate zone of the Northern Hemisphere.
It is not the plant of only Japan.
And several kinds of cherry tree are in Japan.
The cherry tree which Japanese people mainly talk about is a cultivar called Somei-Yoshino.
It was produced by crossing a few kinds of cherry by gardeners in Tokyo in the 18th century.
The petals have slightly pinkish color of white.
Somei-Yoshino sometimes produces fruits.
But the fruit is something like infertile egg, so the seed never produces buds.
For that reason, it is extremely improbable that Somei-Yoshino grows wild.
Therefore, grafting is the main method to grow the new tree.
There are over 3,000 cherry trees around Potomac River in Washington D.C. of the United States, and most of the trees are Somei-Yoshino.
They were donated for Japan-United States Friendship by the mayor of Tokyo in 1912, and were carried in the form of grafted tree.
The life cycle of Somei-Yoshino is very unique.
Before winter, all leaves fall and the tree becomes a bare tree with only a trunk and branches.

Falling cherry blossoms
When spring has come, first, the tree blooms a lot of blossoms on all branches all together.
After the first blossom comes into bloom, it takes about a week to full bloom of the tree.
As soon as the tree becomes in full bloom, it begins to fall the blossoms and make leaves.
At that time, the petals of cherry blossoms fall like snow.
It is also a beautiful scene.
After all blossoms have fallen, whole tree is covered with new green leaves.
It takes about a week from full bloom.
The tree with green leaves passes spring, summer and autumn.
In late autumn, the leaves turn red, then they fall.
The tree becomes a bare tree in early winter.
Bare cherry tree needs cold season for a few months.
By experiencing the cold winter, new buds of blossom are produced as the temperature rises.
Therefore, Somei-Yoshino doesn't come out in tropical area.
Progress of blooming
I took the photos of cherry trees of Somei-Yoshino in the park near my home in Nagoya city in 2019.
In the park, I observed the first blooming on March 24 and the full blooming on April 5.
Until first blooming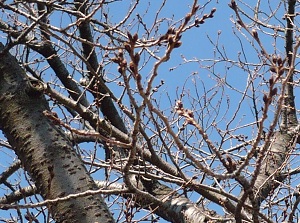 March 9 (15 days before blooming)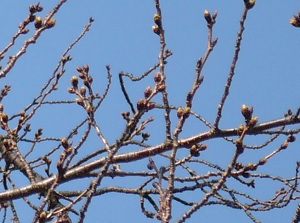 March 16 (8 days before blooming)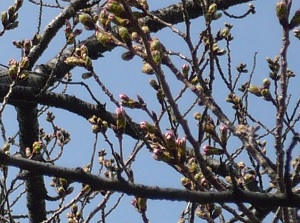 March 22 (2 days before blooming)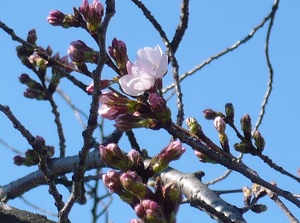 March 24 (Bloomed !)
Until full blooming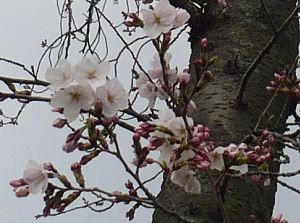 March 28 (8 days before full blooming)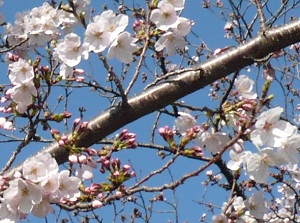 March 31 (5 days before full blooming)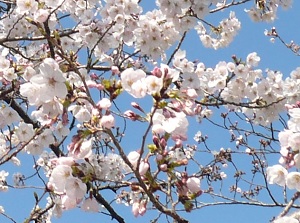 April 2 (3 days before full blooming)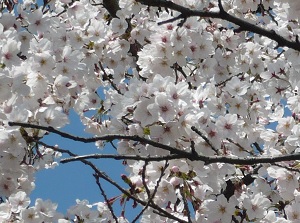 April 5 (Full Blooming !)
After full blooming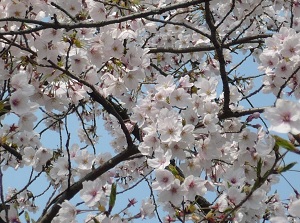 April 7 (2 days after full blooming)
Still, full blooming.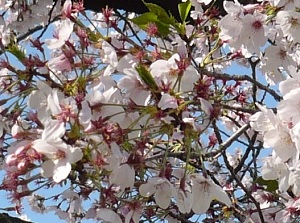 April 9 (4 days after full blooming)
Green leaves appered.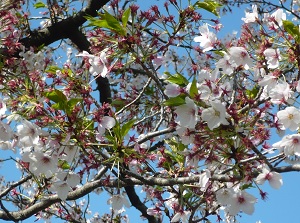 April 13 (8 days after full blooming)
Green leaves are increasing.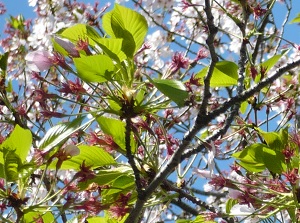 April 16 (11 days after full blooming)
Cherry blossoms have almost been fallen.
Blooming date and Full-bloom date

Cherry blossoms in Yasukuni Shrine in Tokyo
Every year, Japan Meteorological Agency observes the cherry blossoms at over 50 cities in Japan, and announces Blooming date and Full-bloom date at each city.
And, the announcements are broadcast as a national news.
From late March to the middle of April, we watch the news of Sakura every day.
The blooming of cherry blossom is a matter of concern for Japanese people.
There are the standard cherry trees for observation in each city.
The members of Japan Meteorological Agency observe the trees visually every day, and they decide and declear the first blooming and full blooming there based on a criterion.
For example, the standard trees (Somei-Yoshino) of Tokyo are in Yasukuni Shrine.
And, in 2019, they announced that the blooming date was March 21 and the full-bloom date was March 27 in Tokyo.
These dates are recorded as data in Japan Meteorological Agency.
Where can you see cherry blossoms in Japan?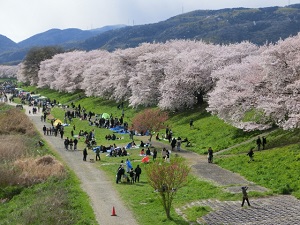 The answer is "everywhere in the mainland of Japan".
But, Okinawa Islands to the southwest of the mainland is too warm.
So, the other kind of cherry bloom in this area.
And Hokkaido Island is too cold, but there are the trees only in the south part of the island.
Since the production of Somei-Yoshino, Japanese people liked it and they have continued to plant throughout Japan.
The trees are found in any park, street, temple, school ground, etc.
Regardless of city and country, there are the trees in living area of Japanese people.
When you visit Japan in the season of cherry blossom, you can see them easily.
But you shouldn't miss a chance to visit the places known for the magnificent cherry trees.
The famous places are as follows.
Main famous viewing spots in Tokyo
Main famous viewing spots in Kyoto
Main famous viewing spots in the other area
When should you visit Japan for sakura?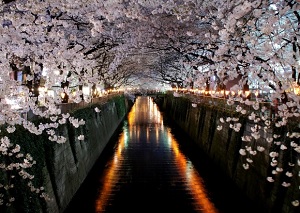 Sakura along Meguro River in the evening
This is the most important answer for you.
The dates of full bloom in Tokyo are as follows.
2008 : March 27
2009 : April 2
2010 : April 1
2011 : April 6
2012 : April 6
2013 : March 22
2014 : March 30
2015 : March 29
2016 : March 31
2017 : April 2
2018 : March 24
2019 : March 27
2020 : March 22
2021 : March 22
2022 : March 27
2023 : March 22
In general, the best period is between the last week of March and the first week of April.
In 2013 and 2018, it was very cold in February, but the temperature rose suddenly in mid-March.
In 2020, the temperatures throughout almost the winter were hotter than average.
In 2021, it was very cold in January, but the temperature rose smoothly from Feburuary to early March.
Then, cherry trees have come into bloom earlier than usual in these years.
Nature is fickle.
In whole Japan, the position of the best season moves from south to north.
It is called "Sakura front".
Because the south half of Japan lies from east to west, Nagoya, Kyoto, Osaka, Hiroshima, Fukuoka on the west of Tokyo are situated on the similar latitude as Tokyo.
Therefore, in these cities, the date of full bloom is different from Tokyo only within a few days.
Sakura front moves toward the north from the south part of Japan slowly over time.
After full bloom in Tokyo, it reaches Kanazawa a week later, Niigata and Sendai 2 weeks later, Aomori 3-4 weeks later, and Sapporo a month later.
Cherry blossoms in Japan other than Somei-Yoshino
Somei-Yoshino is the standard cherry blossom for Japanese people, but some other blossoms are loved by them.
You can often find them in the same park where Somei-Yoshino trees are planted.
Shidare-zakura (Weeping cherry)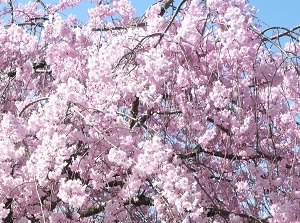 Shidare-zakura is a kind of cherry tree with long drooping branches.
In English, it is tranlated as "Weeping cherry".
Because the branches are soft, they droop gracefully.
The impressive shape stands out in many cherry trees.
The color of the blossom is somewhat deeper than Somei-Yoshino.
The lifespan of Somei-Yoshino is 70 to 80 years, but the lifespan of Shidare-zakura is over 300 years.
Kanhi-zakura (Taiwan cherry)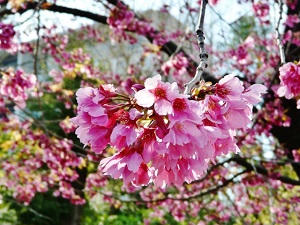 Kanhi-zakura is an early-blooming cherry, and blooms in February in the mainland of Japan.
It is originally a kind of cherry growing in warm area, and is distributed mainly in Taiwan and southern China.
Therefore, the English name is "Taiwan cherry".
In Japan, the main cherry blossom in Okinawa islands is this Kanhi-zakura.
In Okinawa, it blooms in January.
Oshima-zakura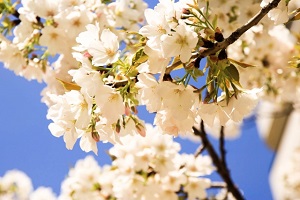 Oshima-zakura is one of species endemic to Japan, and is distributed in Izu Peninsula and Oshima Island located about 100 km south of Tokyo.
It is wild cherry, and Somei-Yoshino was created as a result crossing Oshima-zakura with the other kind of cherry.
The trunk of this cherry tree is used for making charcoal.
"Sakuramochi" is a variety of Japanese confectionery and pink rice cake filled with red bean paste is wrapped with a cherry leaf pickled in salt.
It is the leaf of Oshima-zakura.
Kawazu-zakura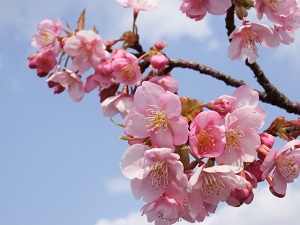 Kawazu-zakura is an early-blooming cherry, and blooms from late January to February.
The blossoms are deeper than Somei-Yoshino, and continue blooming for about a month.
In 1955, it was found as a new species by chance in Kawazu town in Izu Peninsula.
It is thought that the tree is a natural hybrid of Oshima-zakura and Kanhi-zakura.
Of course, the main area of Kawazu-zakura is Kawazu town.
Many trees of Kawazu-zakura are planted about 3 km along Kawazu River.
And Kawazu Sakura Festival is held from around February 10 to March 10 every year.
Ezo-Yamazakura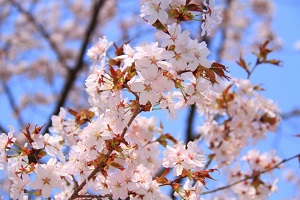 Ezo-Yamazakura is a wild cherry in Hokkaido Island and northern Honshu Island.
"Ezo" means old Hokkaido, and "Yamazakura" means wild cherry.
(It is also called "Ooyamazakura".)
In English, it is called "North Japanese hill cherry".
The northern limit of Somei-Yoshino is around Sapporo in Hokkaido.
Instead of Somei-Yoshino, the main cherry in Hokkaido is this Ezo-Yamazakura.
The main season is from late April to May.
Hanami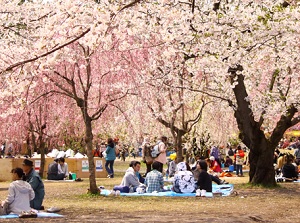 Hanami, Photo by Hirosaki Park
Hanami is a Japanese word meaning cherry‐blossom viewing.
"Hana" means flowers or blossoms generally, but it is often used as cherry blossom which is the most typical blossom for Japanese people.
"Mi" means "to view".
Of course, Hanami is to walk while seeing cherry blossoms in full bloom.
But, there is a custom having a party under the cherry blossoms in Japan.
A group of family or workmates lays out a sheet or a mat under a favorite cherry tree.
They bring some foods and drinks.
Then, they sit down on the mat, chat and see the cherry blossoms while drinking and eating the foods.
It is like a picnic.
But in popular cherry blossom viewing spots, many groups set the sheets side by side, because a lot of cherry trees are planted densely.
The sight is unique.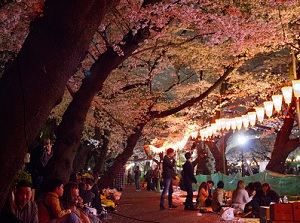 Hanami in the evening
Usually, in major parks with many cherry trees, there are the designated areas for Hanami party.
Of course, you can also have a Hanami party freely in the area.
But you should observe the following manners.
You shouldn't occupy a large space.
You shouldn't bothers other viewers.
For example, talking or singing a song loudly, smoking, fighting.
Mostly, it isn't allowed to use fire.
You shouldn't smoke or have a barbecue.
Don't break off the cherry branches.
Don't climb up a cherry tree.
Don't write graffiti on the cherry trees.
Don't throw trash around your place.
You should separate and throw away trash at the designated place or bring the trash back to the home.
It is said that Hanami started as an event for noble class around the 8th century.
And, around the 17th century, it had become a custom of common people.
Since that, Hanami is a Japanese spring tradition.
But the tradition of Hanami may be changed by COVID-19.
The style of Hanami forms the tight clusters of people and the conversation in the cluster causes droplet infection.
Therefore, conventional style of Hanami like picnic is prohibitted, and only the style that the people walk and see cherry blossoms will be allowed for the time being.