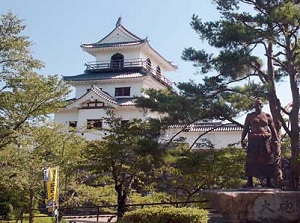 Shiroishi Castle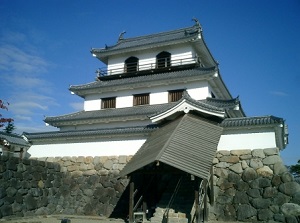 Entrance of Shiroishi Castle
Shiroishi Castle is located in the center of Shiroishi city and is about 0.8 km west of JR Shiroishi station.
The original castle was built in 1591, and the current castle was rebuilt in 1995.
Date Masamune, a leading warlord in Sendai, got hold of this castle after a civil war.
After that, he sent Kojuro Katakura, a right-hand man of Date Masamune, as the lord of this castle in 1602.
Then, Katakura Family kept this castle and governed the town of Shiroishi for more than 260 years.
After feudal period, new Meiji Government abondoned and broke down this castle in 1875.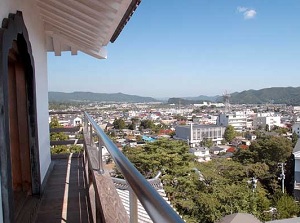 A view from Shiroishi Castle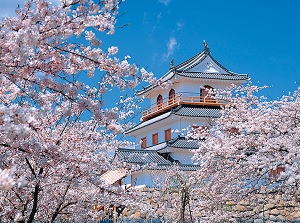 Shiroishi Castle in spring
Photo by Miyagi Prefecture
In 1988, Shiroishi city planned to restore the castle as accurately as possible according to the original design.
And the excavation started in 1990 and the construction started in September in 1992.
The new castle was completed after two and a half years.
The castle tower is a wooden three-story building.
The height of only the building on the stone wall is 16.7 meters.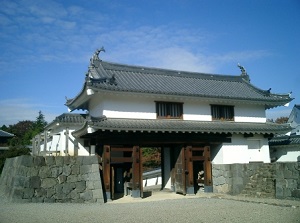 A restored gate of Shiroishi Castle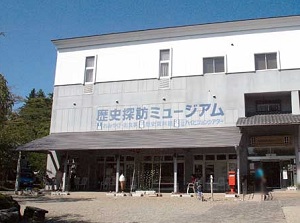 History Museum near Shiroishi Castle
Two main gates have also been restored.
Near the castle, there is History Museum.
In the museum, we can see Japanese armours, swords, matchlock guns of Katakura Family.
How to get here
Walk for 800 meters from JR Shiroishi station.
Hotels in Sendai city
Other Tourist Attractions in Shiroishi city