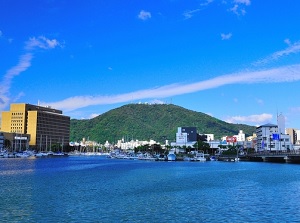 Tokushima city and Mt.Bizan
Photo by Tokushima Prefecture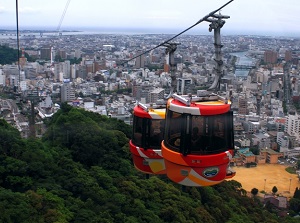 Bizan ropeway in Tokushima city
Photo by Tokushima Prefecture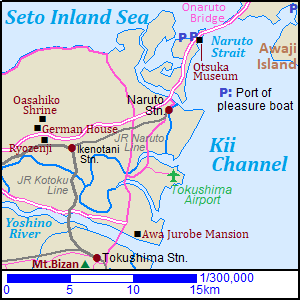 Tokushima city is the prefectural capital of Tokushima Prefecture.
It is located in the northeast part of the prefecture and near the mouth of Yoshino River.
In the late 16th century, Tokushima Castle was built.
And the castle town was constructed, then Tokushima has developed.
The castle was demolished in 1869.
The ruin remains near JR Tokushima station and is current Tokushima Central Park.
There is Mount Bizan (眉山) just to the west of the center of Tokushima city.
Its altitude is 290 meters.
The ropeway is set up and we can enjoy the view of Tokushima city, Kii Channel, and Awaji island at the top of the mountain.
Tokushima city is famous for Awa Odori (Awa Dance).
It has a history of over 400 years, and more than a million visitors come to see the dance parade during four days (August 12 to 15).
Awa Odori Kaikan (
阿波おどり会館

)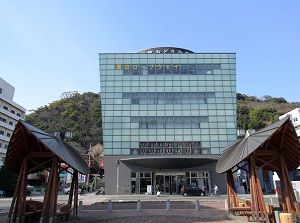 Awa Odori Kaikan in Tokushima city
Photo by Tokushima Prefecture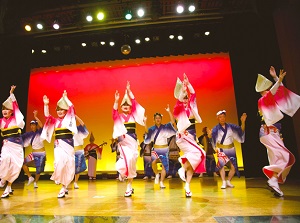 Performance in Awa Odori Kaikan
Photo by Tokushima Prefecture
Awa Odori Kaikan is the museum of Awa odori.
It is located about 800 meters southwest of JR Tokushima station, and there is the ropeway station to Mount Bizan on the fifth floor in this building.
Real Awa Odori is the event in summer, but this museum shows it throughout the year.
In the afternoon, the show by the dancing team of this museum is held in the hall three times a day.
In the evening, the show by the major dancing team in Tokushima is held.
And the museum displays wears, music instruments, and some other articles about Awa Odori.
Awa Jurobe Mansion (
阿波十郎兵衛屋敷

)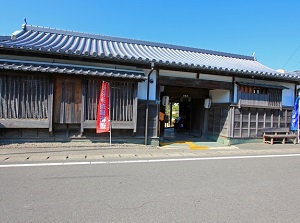 Awa Jurobe Mansion
Photo by Tokushima Prefecture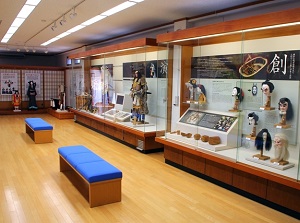 Museum of Awa Jurobe Mansion
Photo by Tokushima Prefecture
Awa Jurobe Mansion is an museum about Ningyo-Joruri (traditional Japanese puppet drama).
It is located 5 km northeast of JR Tokushima station.
It is called "Awa J&urirc;rôbei Yashiki" in Japanese.
"Awa" is the name of old Tokushima Prefecture, and "J&urirc;rôbei" is the first name of a samurai.
Bando J&urirc;rôbei (1646-1698) was a Tokushima Clan's samurai monitoring trade flows for the rice from the other areas.
He had strictly checked the trading.
The rice trading from the other area had been prohibited by Edo Government.
But, Tokushima Clan had approved the illegal trading.
Tokushima Clan feared that the illegal trading was revealed by J&urirc;rôbei.
So Tokushima Clan killed him.
About 70 years after his death, a drama of unhappy J&urirc;rôbei was created.
In Tokushima area, there had been many Ningyo-Joruri theaters, so the drama was performed as Ningyo-Joruri.
"Bunraku" as Ningyo-Joruri developed in Osaka as a sophisticated performing arts, but Tokushima's Ningyo-Joruri became one of entertainment for citizens.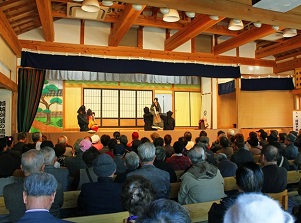 Ningyo-Joruri theater in Awa Jurobe Mansion
Photo by Tokushima Prefecture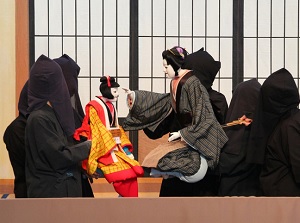 Ningyo-Joruri in Awa Jurobe Mansion
Photo by Tokushima Prefecture
This museum has been built on the ruin of the residence of Bando J&urirc;rôbei.
In this museum, various articles about Tokushima's Ningyo-Joruri are displayed.
And a few scenes in the drama of J&urirc;rôbei are performed at the theater in this museum. (About 25 minutes)
Near this museum, there is Awa Deko Ningyo Puppet Museum (阿波木偶人形会館).
It introduces the making process and mechanics of the puppet.
To visit this museum, by route bus for Tomiyoshi Danchi from JR Tokushima station, it takes about 20 minutes.
How to get here
By express bus, about 2 hours 45 minute from Kansai International Airport, about 1 hours 50 minutes from Shin-Kobe station (Shinkansen).
By JR limited express, about 1 hour and 10 minutes from Takamatsu.
From Tokushima Airport, about 24 minutes by route bus.
Other Tourist Attractions in Tokushima Prefecture