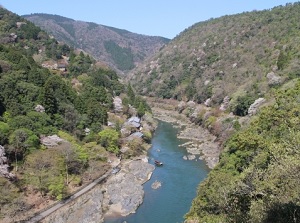 Hozu gorge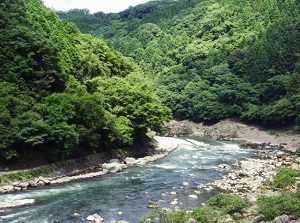 Hozu gorge
Hozu gorge ("Hozu-kyô" in Japanese) is a gorge formed by Hozu River (Hozugawa).
The start point is Kameoka city located to the west of Kyoto city, and the end point is Togetsukyo bridge in Arashiyama area.
From Togetsukyo, the name of the river changes to Katsura River.
The length of the gorge is about 12 km.
The linear distance is about 8 km, but the river runs meandering.
Originally, this gorge was very narrow and rocky.
Sukinokura Ryoui (1554-1614) was a wealthy merchant in Kyoto.
He was thinking that he wanted to carry the products of Tanba region (the northwest region of Kyoto Prefecture) through this gorge.
At last, he decided to construct a waterway to enable water transport in 1606, then he completed the difficult construction within just five months.
Since that, this waterway had been an important route connecting between Tanba and Kyoto.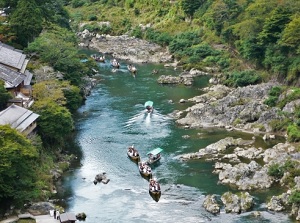 Cruising boats in Hozu gorge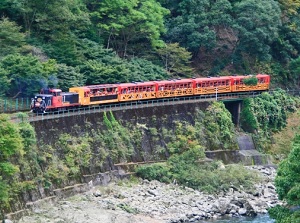 Sagano Romantic Train along Hozu gorge
But, a railway (San-in Line, current Sagano Line) was completed in 1899, so the main transportation was changed to the train.
In the result, the waterway had been no longer in use.
Instead, the cruising for sightseeing had started in 1885, because this gorge is near Arashiyama.
Several novelists wrote this cruising in their works, and the Princes of Romania and Britain as the state guests enjoyed the cruising in the 1920s.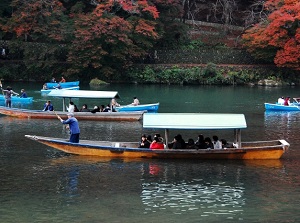 Hozugawa River Boat Ride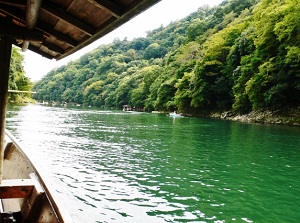 Scenery of Hozu gorge on the boat
Hozu gorge cruising is done by small boat with two boatmen.
And the boat is operated downstream.
So the start point is located about 0.5 km east of JR Kameoka station, and the end point is near Togetsukyo bridge in Arashiyama.
It takes about 2 hours.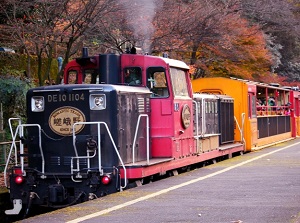 Sagano Romantic Train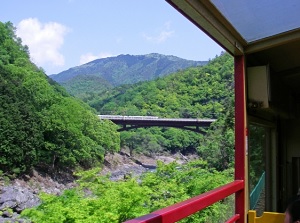 Scenery from Sagano Romantic Train
Another popular transportation to enjoy this gorge is Sagano Romantic Train.
It runs along the river, and we can enjoy the scenery of the gorge in the train.
Originally this route was a part of JR San-in Line.
In 1989, the old railway route around this gorge was changed to the new route passing through the tunnels.
The old scenic route was abolished, but it has been used as a sightseeing railway.
The terminal stations are Torokko-Saga and Torokko-Kameoka, and there are Torokko-Arashiyama and Torokko-Hozukyo stations between them.
("Torokko" means "trolley train".)
It takes 23 to 26 minutes.
Of course, the trains are operated in both directions.
Basically, reservations are required in advance.
When the train has seats available fortunately, you can get the seat on the day.
How to get here
By JR Sagano Line, from Kyoto station to Saga-Arashiyama, about 14 minutes by rapid train, about 18 minutes by local train.
To Kameoka, about 23 minutes by rapid train, about 31 minutes by local train.
Other Tourist Attractions in Kyoto Prefecture