Geisha and Maiko
About Geisha and Maiko
Geisha and Maiko are the female entertainers in the room of high-class Japanese-restaurant.
They wear beautiful kimono and the hairstyle is the Japanese coiffure.
First, it is difficult for you to meet them in any place in Japan.
Because, their workplace is in the room of high-class Japanese-restaurant or Japanese-style hotel.
The direct meaning of "Geisha" is "performer" and the meaning of "Maiko" is "young dancer".
Geisha is the entertainer whose skills include performing various Japanese arts such as classical music and dance.
(Unfortunately many foreigners misunderstand that Geisha are prostitutes.
Please gain a correct understanding of Geisha!)
Maiko is the apprentice of Geisha.
Generally, girls who are aspiring to become Maiko enter an Okiya (Geisha houses) at the age of 15 to 20, and are trained for some years, then they are recognized as Geisha.
Of course, Maiko are younger than Geisha.
Therefore, they wear the brighter kimono.
Very colorful obi (the kimono sash) is tied and a long part is hung down from her back. (It is called "Darari-obi".)
Geisha wear Japanese sandals, but Maiko wear a pair of "Pokkuri" (or "Koppori").
It is a wooden footware and the thickness of sole is about 12 centimeters.
Geisha and Maiko are working only in limited cities.
Kyoto is the main city, and they are in Gion area in Kyoto.
The pretty and beautiful figure of Maiko is a symbol of Kyoto.
In Tokyo, there are Geisha in some towns such as Asakusa, Shinbashi, Kagurazaka, etc.
Additionally, there are a small number of Geisha in some cities such as Kanazawa, Atami, Nagoya, Fukuoka, etc.
In Kyoto, there are five Geisha districts.
Gion-Koubu : The largest area. Southwest of Yasaka Shrine
Miyagawa-cho : The east side of Kamo River between Shijo street and Gojo street.
Gion-Higashi : Southeast of Yasaka Shrine.
Ponto-cho : The west side of Kamo River between Sanjo Street and Shijo Street.
Kami-Shichiken : East of Kitano Tenmanguu Shrine
The work of Geisha and Maiko
Geisha and Maiko entertain the guests, pour sake for them, perform Japanese dance, sing some songs in a room in Japanese-style restaurants or ryokans.
Maiko's main work is to perform the dance.
Additionally they lead to play light game with the guests.
The guests enjoy themselves too much, but they have good manners.
They never perform indecent acts on Geisha and Maiko.
Basically, Geisha and Maiko entertain only regular customers and the guests introduced by them.
Generally, most of the guests are rich masters.
So we cannot see their performance in any ryokan.
Recently, the open events are sometimes held by the association of Geisha and Maiko.
To see Maiko or Geisha, it is good idea to join them.
But, the registration fee is expensive.
But when you walk on the street in a Geisha district, you may find Maiko or Geisha walking to their workplace.
It may be only chance.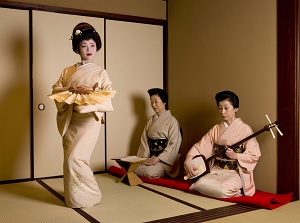 Geisha performance in Chaya
Photo by Kanazawa City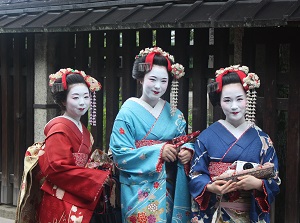 Maiko girls
Caution !
Recently, it is reported that foreign tourists sometimes follow or gather in a ring around Maiko like paparazzi.
If you do so, weak Maiko have a scare.
You aren't a guest of the Maiko.
Please watch Maiko from a distance.