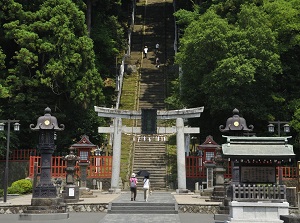 Entrance of Shiogama shrine
Photo by Miyagi Prefecture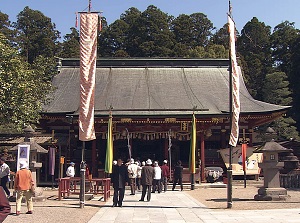 Shiogama shrine
Photo by Miyagi Prefecture
Shiogama shrine is a Shinto shrine in Shiogama city located about 15 km northeast of the center of Sendai city.
And Shiogama city is located on the southwest side of Matsushima Bay.
Main shrine is Shiogama shrine and Shiwahiko shrine (志波彦神社) is also in this site.
The site is on a low hill and the shrines are surrounded with forest.
"Shio" in the word means "salt" and "kama" ("gama" in the word) means "cauldron".
It is said that a God living in this area taught the people to make salt in ancient times.
In the history, this shrine for the God had already existed in the 9th century.
Shiwahiko shrine is right next to Shiogama shrine.
It is said that the shrine was established at the other place in the 7th century, but it had fallen into ruins in the 16th century.
Then, it was rebuilt here in 1877.
Most buildings of Shiogama shrine were built around 1704, and all of them are designated as important cultural properties.
At shrine office, you can buy the salt after receiving exorcism.
Of course, you can use as good luck charms, or you can use for cooking.
If you hold the salt, it is said that the salt secure you from the trouble on your trip.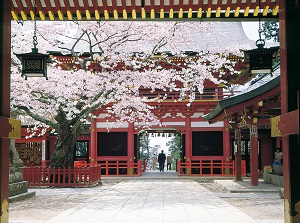 Sakura in Shiogama shrine
Photo by Miyagi Prefecture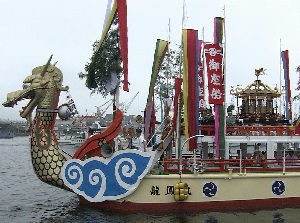 Shiogama Minato Festival
Ship carrying Mikoshi from Shiogama shrine
Photo by Miyagi Prefecture
There are about 200 cherry trees in the site, and the best season is in late April.
Especially, there are about 30 "Shiogama-zakura" trees in this shrine.
The kind of cherry tree exists only in this shrine, so they are designated as national monuments.
The best season is in early May.
On the 3rd Monday in July, Shiogama Minato Festival is held in the city and the Shiogama Bay.
The start point of Mikoshi (portable shrine) is this shrine.
By the way, the kanji characters of "Shiogama" are very difficult.
These characters are not learned in compulsory education in Japan.
(Even I can't write these characters.)
So, they are often replaced with the characters which have the same meanings and are used daily.
"鹽" is "塩", and "竈" is "釜".
"鹽竈" is the same as "塩釜".
How to get here
By JR Senseki Line, get off at Hon-Shiogama station.
About 30 minutes from Sendai.
Then, 1 km walk from the station.
Hotels in Shiogama
Other Tourist Attractions in Miyagi Prefecture